I'm so excited to share the gorgeous cover of my upcoming release SHINING THROUGH, the fifth and final book in my Red Hot Russians sports romance series.
It's Dirty Dancing meets Olympic figure skating as Russian bad boy Daniil Andreev, and American ice princess Tabitha Turner try to keep their eyes on the gold in the midst of all kinds of sexy distractions.
Helping out along the way are PAIRING OFF's Red Hot Russian hero Anton Belikov, who is now Daniil's coach; and some other familiar faces from the series. But don't worry if you're not familiar with the previous books. Each story works as a standalone.
My cover designer Dani Barclay created a beautiful scene of the book's Winter Games host city, Grenoble France, and her depiction of the Olympic torch figures into one of my favorite scenes!
With the 2018 Winter Olympics in PyongChang South Korea coming up in February, now is a great time for a romance that follows two top level figure skaters through the season that leads up to the Games!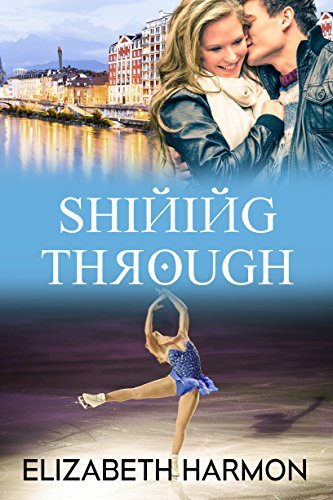 The Biggest Season of her Career…
America's sweetheart Tabitha Turner is on track to win figure-skating gold in the Winter Games. Her family has sacrificed everything for her career, but the pressure is taking its toll. Burned out and living a lie, can the Golden Girl let off a little steam without melting the ice?
The Last Chance of His…
Russia's bad boy of skating Daniil Andreev is determined to prove the toughest thing about him is his competitive fight. When Tabitha tempts him to help her take a secret walk on the wild side, he gives her a taste of the freedom she craves, never expecting that one unforgettable night could turn into something more.
Two Hearts on Thin Ice…
Chicago, Vancouver, Paris… the international figure skating season unfolds. Tabitha and Daniil compete and fall in love, but as the pressure mounts in a make-or-break season, can they set aside their painful pasts and spiral into a shining future together… or will their dreams shatter like thin ice?
Romance Contemporary | Romance Sports [Pronoun, On Sale: October 2, 2017, e-Book, ISBN: 9781537865041 / eISBN: 9781537865041]
Enjoy an EXCLUSIVE excerpt from SHINING THROUGH!
She propped her chin on her fist, and peered at him, brow furrowed. "Is it true what you said, about not wanting to get tied down, so you can be free to enjoy any woman you want?"

"I'd say it is until I meet the right woman. She could ask me for the moon and stars, and I would happily give her that and more."

"Including your heart? Your faithfulness?" She scoffed. "That sounds like a line to me."

"And you sound like a cynic. Why don't you believe I could be true to the woman I loved?"

"Your reputation precedes you, Bad Boy of Russian figure skating."

Tabitha was sexy without even trying to be, and it made him want her that much more. But at the same time, he knew she wasn't ready. "Maybe I'm ready to change."

"Yeah, right. I've heard that song a few times."

He stilled. "And you've been hurt?"

Her gaze hardened. "Never. But I've seen it happen to others. Personally, I haven't given anyone the chance."

Something besides skating pressure had given rise to the Ice Queen. And though he was intensely curious as to what that might be, she'd turned back to her drink, savoring every sip as though she'd never have another. When it was gone, she gave him a bright, playful smile. True confessions were over, and the blue-haired fem-bot just wanted to have fun.
Pre-order now to get the ebook on the October 2 release day!
Buy SHINING THROUGH: Kindle | BN.com | iTunes/iBooks | Kobo | Google Play | Amazon CA | Amazon UK | Amazon DE | Amazon FR
Enter my August Fresh Fiction contest to win an I © Figure Skating prize package, that includes a signed copy of PAIRING OFF, the RITA finalist first book in the Red Hot Russians series.
Save