The entire concept of the X-OPS series started around 2011, when the Navy SEALs were in the news seemingly every week. As I was coming up with ideas for the first book in the X-OPS Series (HER PERFECT MATE), I knew I wanted to partner up shifters with covert operatives. Think putting shifters on a team with SEALs, Special Forces, CIA or FBI. But for that to work, I knew my shifters were going to have to be different. I simply couldn't imagine my operatives going into a dangerous situation with a partner who couldn't carry a weapon when he or she shifted into an animal, even if that partner did have fangs and claws. I wanted the best of both worlds, so I made my shifters half animal, half human. That took them in a completely different direction than you'd normally see in a paranormal romance. Here are a couple different ways my shifters are unique:
Where They Come From: In X-OPS, shifters aren't some kind of monsters, aren't cursed to live in the darkness, their change isn't controlled by the phases of the moon, there's no magic involved, and they aren't possessed by a demon (which are all very cool ideas by the way). They simply possess specific pieces of animal DNA in their genes that has turned on. They don't turn into their particular animal, but simply display some of that animal's traits, like claws, fangs, great night vision, keen sense of smell, enhanced muscular strength and endurance, etc. It makes them amazing covert agents, but keeps their interactions with their partners on a more human level.
Kinds of Shifters: In HER PERFECT MATE, Ivy is a feline shifter. In HER LONE WOLF, Clayne is a wolf shifter (yeah, the title probably gave that one away). HER WILD HERO gave the readers a bear shifter named Declan. HER FIERCE WARRIOR brought us Minka, another type of feline shifter into the mythology, one who was man-made when a serum developed from Ivy's DNA is forced on a person who never asked for anything like that. Other books in the series show us coyote and fox shifters, and some that are even more exotic (you'll have to read the books for the details on this one!). As you can see, I tend to keep all my shifters based on higher order mammals. It's just sexier, I guess. Who wants to read a book about a hot, hunky squid shifter?
Women get to be shifters too! As you can see from the stuff I said earlier, a lot of my books focus on female shifters. What can I say? I love a kick-butt woman that can go toe-to-toe with her male partner. And what woman out there hasn't thought about sinking her teeth into a prime hunk of sexy masculinity? Well, some of my shifter heroines get to do that!
The World Doesn't Know: The organization that I created, the Department of Covert Operation (DCO), is buried deep inside Homeland Security. Almost no one knows it exists, and the fact that the DCO pairs shifters with normal human operatives is classified out the wazoo. You can imagine, when the human part on the team ends up finding out what their partner really is, the sparks fly!
Shifters Aren't Necessarily Treated Well Even in their own Organization: Shifters have been hiding their abilities from most of the world for all of history, knowing they'd be labeled as freaks if people knew. People say things behind their backs, and some in the DCO refuse to work with them. The organization doesn't really help matters much, considering shifters to be nothing more than "Extremely Valuable Assets" or EVAs for short. Nothing like being told you're just another corporate "asset" to make you feel valued, huh? This lack of trust and respect makes it hard for most shifters to trust their new partners. But that only makes the romances in the series that much better when they happen!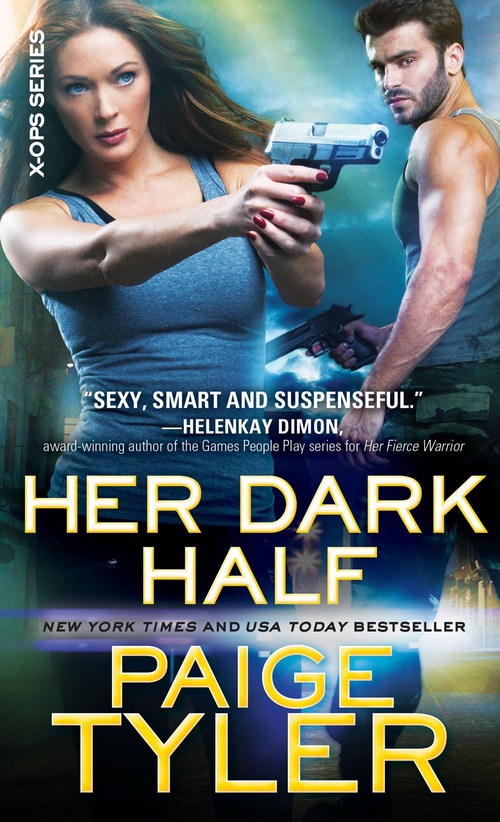 Trevor Maxwell
Coyote shifter with an attitude
Covert operator
Trusts no one, especially his devastatingly beautiful new partner
Alina Bosch
Former CIA, newest operative on the covert team
Hired to spy on her partner
Motto: "Never be deceived again."
Coyote shifter Trevor Maxwell is teamed up with CIA agent Alina Bosch to catch a killer. But when the mission becomes much more dangerous than they expected, they're going to have to ignore the attraction between them and learn how to trust one another to come out on the other side…
Romance Paranormal | Romance Military [Sourcebooks Casablanca, On Sale: September 5, 2017, Mass Market Paperback / e-Book, ISBN: 9781492642404 / eISBN: 9781492642411]

Start reading HER DARK HALF at bedtime and expect a sleepless night!
X-Ops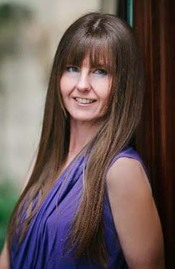 Paige Tyler is a New York Times and USA Today bestselling author of sexy, romantic fiction. She and her very own military hero (also known as her husband) live on the beautiful Florida coast with their adorable fur baby (also known as their dog). Paige graduated with a degree in education, but decided to pursue her passion and write books about hunky alpha males and the kickbutt heroines who fall in love with them.