Looking for the perfect author reader match? Fresh Fiction is here to help. Today we're presenting ANNA BRADLEY. She's got lots to offer a reader so check her out!
What I Write
Sexy, steamy Regency historical romance—if you're into wild, wicked alpha heroes and sassy heroines who bring the naughtiest, haughtiest rogue to his knees, then you've found your perfect book match!
About Me
I'm looking for readers who will risk their hearts on a handsome rake. Are gowns, gloves and garters your thing? Do you want to spend an evening flirting with earls and waltzing with dukes? Then you're the reader I'm looking for! Warning: my books are not for the faint-hearted. The Regency is rife with scandalous intrigue. Dangerous flirtations, deadly duels, seductive scoundrels, and arrogant rakes with riding crops abound.
I'm Looking for a Reader who . . .
Love a great romance more than she loves sleep.
Has an appreciation for bad boys heroes—Regency style.
Thinks cravats and breeches are sexy (readers with kilt obsessions are also welcome!)
Loves to see a wicked hero redeemed
Craves love scenes that give her a reason to use her fan.
Believes in sizzling passion, life-altering kisses, and love at first sight
Can recognize a hero's heart under a rake's disguise.
Knows a good climax when she sees one!
What to Expect from Me:
Humor and drama, a bit of angst, and sizzling passion—get ready for all the feels!
Historical accuracy when it counts, and a vivid imagination when it doesn't.
Hot new book boyfriends!
Wicked heroes who make you want to tear your hair out, then tear your gown off.
Fun times on Facebook (https://www.facebook.com/annabradley472) and Twitter (@annabradley472), and a new newsletter every month (subscribe at www.annabradley.net).
A Season of Ruin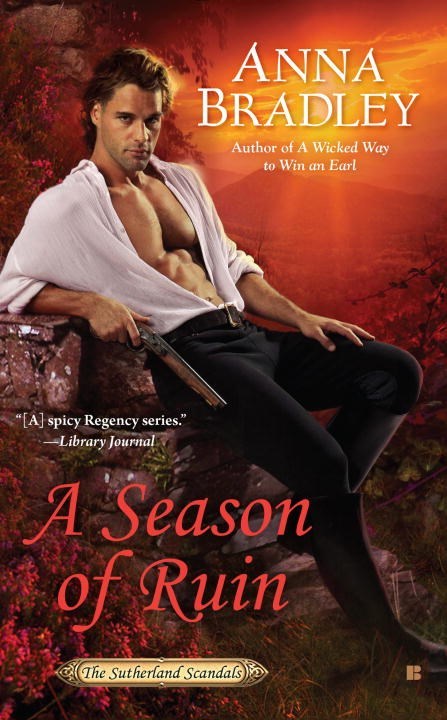 Even the Best Laid Plans . . .
Lily Somerset has the perfect plan. A quick London season, a proper courtship, and then marriage to a carefully chosen respectable gentleman. All she has to do is avoid scandal and sidestep the wicked London rogues and she'll be rewarded with quiet, peaceful life as Lady Atherton. Simple.
That is, until one tiny misstep at a musical evening leaves Lily on the edge of social ruin and she's forced to depend on a wicked rogue to save her reputation. And Robyn Sutherland isn't just any rogue—he's the wickedest gentleman in London.
Have a Way of Going Awry . . .
Robyn doesn't save reputations—he ruins them, and it's best for everyone if no one expects too much more of him. He'd rather spend the season in the seventh circle of hell than escort dull, proper Lily to every tedious entertainment in London, but he's trapped in the palm of her dainty hand, and there he'll stay for as long as it takes to repair her tattered reputation, no matter how hard she squeezes.
When Desire Overwhelms Reason
What begins as a ruse to deceive London soon flames into an uncontrollable passion. Robyn calls to the fiery spirit trapped under Lily's prim exterior, and Lily awakens the hero's heart that beats in Robyn's chest. But can these unlikely lovers trust themselves enough to let desire overrule reason?
Romance Historical [Berkley, On Sale: August 2, 2016, Mass Market Paperback / e-Book, ISBN: 9780425282649 / eISBN: 9780698406131]