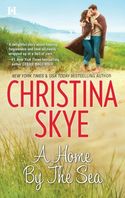 November 2011
On Sale: October 18, 2011
Featuring: Grace Lindstrom; Noah McKay
384 pages
ISBN: 037377608X
EAN: 9780373776085
Kindle: B005JSRAYC
Paperback
$7.99
Romance

RT Nominated we like…
A Home By The Sea
by Christina Skye
Grace Lindstrom has followed her fiancé across three continents, starry-eyed and full of dreams. But when he dies in a plane crash, Grace discovers that their life together was the cruelest kind of lie—and swears to never lose herself to that kind of love again. Until one night, when a chance encounter leads her to the kind of man she's always dreamed of—and the deep family ties she's never known.
Noah McKay knows he can't offer Grace any kind of future—not when he spends every day putting his life on the line. But when Grace's grandfather suddenly falls ill and she's called home to the small island town where she grew up, he realizes he can't live without her. Aided by good knitting, good chocolate and deep friendship, Grace is slowly learning to trust again—but can she learn to love a man whose secrets run so deep?
Excerpt
Noah McLeod took a deep breath. Wind gusted up the street, stabbing at his face. He hunched his shoulders, facing the icy gale. The cold air was actually a relief after the horrible day he'd just had.
It always took time to shrug off the work. You didn't forget, but at least you managed to move on. If bad dreams and explosions haunted your sleep, then you shrugged those off, too.
Slowly Noah flipped up the collar of his leather coat. He focused on the cold, slipping into the moment and letting the hard edge of duty and responsibility fade, repeating the rule he had learned years before.
You have to move on. If you can't leave the work behind, it will drive you over the edge and one day you'll snap.
Read More… Previous Picks