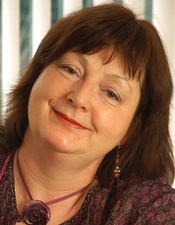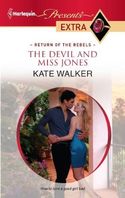 Lots of people have asked me about the title of my latest romance. THE DEVIL AND MISS JONES is out in Presents Extra this week – on April 4th actually. And the title seems to have grabbed at people's imaginations.
THE DEVIL AND MISS JONES? What's that about? It's an unusual title – how did you come by that? they want to know. They're intrigued and wanting to find out what the story is behind that atmospheric title.
I have to admit that I'm really glad that Harlequin Mills & Boon have made a pretty radical rethink on their approach to titles a while back. They decided that those multiple, built up 'buzzword' titles no longer worked (thank goodness!) and the billionaire/blackmails/revenge/greek/whatever titles had to go. (You could hear the cheers from the authors for miles!) If they'd kept to that system of naming a book then I would probably have ended up with The Argentinian Billionaire's One-Night Lovechild or some such and we all know there's so much more to a book than just that! THE DEVIL AND MISS JONES was my own working title for this story, the one that gave me the right mood and atmosphere for the book and so I much prefer this more descriptive title for this very special book.
Special book? Oh yes, perhaps I should mention that THE DEVIL AND MISS JONES will be my 60th published title for Harlequin – I'm still not quite sure how I made it to that number but that's what I'm celebrating along with the publication of this book. So there's another reason why I'm happy that it has a title I'm not embarrassed to tell people about. (Because I'll admit that some of the titles I've been given in the past might have those buzzwords in them but they've hardly been memorable or enticing.)
About that title, THE DEVIL AND MISS JONES was my own working title for this story, the one that gave me the right mood and atmosphere for the book and so I much prefer this more descriptive title for this very special book. When I'm writing a romance, I usually have my own personal title that I'm working from – one that tells me what I think the story is all about, the one that keeps me on the track I want to follow. In the beginning – way back in 1980s! – I always used to choose my own titles so the first books were THE CHALK LINE, GAME OF HAZARD, FIRST MAN, ROUGH DIAMOND, all of which were my own working titles. Sometime later, I still used to be able to put that title forward as a possible final title for the book – and so THE TWELVE MONTH MISTRESS and THE SPANIARD'S INCONVENIENT WIFE were both my working titles and just reading them still reminds me of the ideas that were in my head when I was writing the story. But then the policy on titles changed and all those Spanish Billionaire/Greek Tycoon/Sicilian/Sheikh type titles came in. They were evocative – sometimes quite powerful, sometimes, I'll admit, they made my toes curl. Any title I suggested always got changed by editorial/marketing so I gave up even thinking of one and would send my book in under the title 'Pietro's Story' (that became THE PROUD WIFE) or Zarek's story (THE GOOD GREEK WIFE?)
But then the thinking on book titles changed yet again – I think that's the fourth or maybe the fifth time since my very first book was published. When I sent in this novel I decided to share with my editor the title that had kept me on the storyline I had planned – THE DEVIL AND MISS JONES – and luckily for me she loved it and wanted to use it when the book was officially published. And it's been attracting attention ever since. One of the reasons why I called this book THE DEVIL AND MISS JONES is because those are the names my hero and heroine give each other when they first meet. They don't use their real names but these aliases, names they are hiding behind, each for their own very personal reasons. Both are at a crossroads in their lives. Neither of them really know who they are right now- and where they go from here. And neither of them is prepared to reveal their true self to someone they have only just met. And Diablo/Devil and Miss Jones are the people they used to be – the people they are leaving behind and the person that will change so very much as a result of meeting the other one.
So THE DEVIL AND MISS JONES is how they introduce themselves – and THE DEVIL AND MISS JONES – and who they become – is the theme of the story. So I hope you can see why I was so thrilled to be able to use this title for the published book.
I think I stuck really lucky there and I'm so happy that everyone is interested and intrigued by the title. I hope you're all intrigued by the book as well! And I was wondering – what sort of titles will intrigue you? What makes you want to pick up a book and learn more about it? What have been some of the best titles you've ever seen for a novel – or do you have a favourite title of all time. (I have to admit to loving quite a few – WUTHERING HEIGHTS, GAME OF KINGS, THE MOONSPINNERS . . . .)
Tell me about the titles that pull you in and make you want to read the book. Everyone who posts a comment will be entered into the draw for my prize giveaway this time. I have a copy of THE DEVIL AND MISS JONES to give away to one lucky poster. And two other winners will win their choice of books from my backlist. My cat – Charlie the Maine Coon – will pick the winners from a set of names, all with a cat treat on the top!
And in the meantime, I get back to work on my latest romance. What's the working title on this one? Well it was The Black Sheep Prince – but as I've been working on it I've changed that slightly to 30 Pieces of Silver.
To comment on Kate Walker's blog please click here.