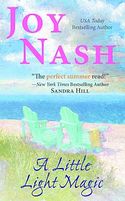 June 2009
On Sale: May 26, 2009
Featuring:
Nick Santangelo; Tori Morgan
336 pages
ISBN: 050552693X
EAN: 9780505526939
Paperback
$7.99
Romance Contemporary
Buy at Amazon.com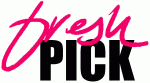 A Fresh Fiction favorite is a finalist for the 2010 RWA RITA category Contemporary Single Title.
A Little Light Magic
by Joy Nash
When a girl with no family meets a guy with too much…
For Tori Morgan, family's a blessing the universe hasn't sent her way. Her parents are long gone, her chance of having a baby is slipping away, and the only thing she can call her own is a neglected old house. What she wants more than anything is a place where she belongs…and a big, noisy clan to share her life.
For Nick Santangelo, family's more like a curse. His nonna is a closet kleptomaniac, his mom's a menopausal time bomb and his motherless daughter is headed for serious boy trouble. The last thing Nick needs is another female making demands on his time.
But summer on the Jersey shore can be an enchanted season, when life's hurts are soothed by the ebb and flow of the tides and love can bring together the most unlikely prospects. A hard-headed contractor and a lonely reader of Tarot cards and crystal prisms? All it takes is…A LITTLE LIGHT MAGIC.

A moving story that will bring tears to your eyes and make you laugh out loud.
Excerpt
Tori found Nick frowning at the lock on her back door.
"Something wrong?"
"This place needs more work than what's on your list. For one thing, this lock is broken."
"It is?" She took a closer look. "I didn't know."
He muttered something under his breath that sounded suspiciously like, "It figures."
"Leaving your doors unlocked during the day is one thing. You can't leave your back door open all night. I'll run over to the hardware store before it closes and pick something up."
"There's no rush. I've been here a month already, and nothing's happened."
"Yet. The season's just getting started, and there's more crime in the summer. This is asking for trouble."
He looked so serious she couldn't resist prodding him Read More…