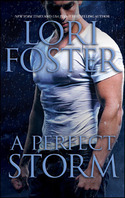 Men Who Walk the Face of Danger #4
April 2012
On Sale: March 27, 2012
Featuring:
Arizona Storm; Spencer Lark
384 pages
ISBN: 037377656X
EAN: 9780373776566
Kindle:
B006Y9YLNS
Paperback
$7.99
Romance Suspense

Moving to Romantic Suspense…
A Perfect Storm
by Lori Foster
He never saw her coming…
Spencer Lark already knows too many secrets about Arizona Storm, including the nightmare she survived and her resulting trust issues. But in order to expose a smuggling ring—and continue avenging his own tragic past—the bounty hunter reluctantly agrees to make Arizona a decoy. Yet nothing has equipped him for her hypnotic blend of fragility and bravery, or for the protective instincts she stirs in him.
Arizona wants to reclaim her life, which means acting as bait to lure the enemy into a trap. Sure it's dangerous, especially with a partner as distractingly appealing as Spencer. But as their plan—and their chemistry—shifts into high gear, Arizona may discover there's an even greater risk in surrendering her heart to a hero…

A perfect end to a dynamic series!

Two damaged souls coming together for healing can definitely create A PERFECT STORM.
Excerpt
Arizona Storm sat quietly on the overstuffed chair, her chin resting on her drawn-up knees, her fingers laced together around her shins. Waiting.
In the quiet, shadowed room, she breathed in the unique aroma of aftershave and gun oil, and the headier scent of warm male. On the back of the chair behind her he'd tossed his jeans and a rumpled T-shirt. Close at hand on the nightstand, he'd placed his freshly cleaned gun and his deadly switchblade.
His discarded boxers lay on the floor.
He fascinated her.
After breaking into his house, she'd removed her sneakers and put them next to his boots by the front door. The air-conditioning, set on high, left her toes cold, but he'd covered himself with no more than a thin sheet.
Again Read More… Previous Picks