Fresh Pick for Sunday, February 14th, 2016 is A VALENTINE FOR THE VETERINARIAN by Katie Meyer
#ValentineLove #romance #pets Perfect!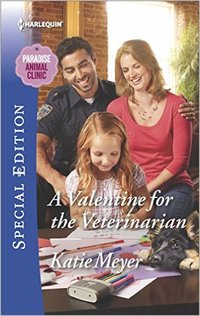 IT'S RAINING CATS AND DOGS AND BABIES?
When charismatic K-9 cop Alex Santiago shows up at Paradise Animal Clinic with a tiny gray kitten in his jacket, something inside Dr. Cassie Marshall shifts. The overworked single mom and veterinarian had been sure her plate was already full. Yet something about Alex's coffee-brown eyes has made her reconsider. Surely she can make room in her heart for just one more.
But two? When Cassie learns she is pregnant after a hot night with Alex, she panics. How can she handle one man, his dog, her little girl, their cat and a baby? Her sexy deputy sheriff has made no bones about wanting a simple relationship. So how can she tell her love-shy Valentine that their already full menagerie is about to be visited by the stork?<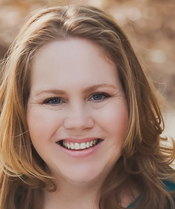 Katie Meyer is a Florida native with a firm belief in happy endings. She studied English and Religion before getting a degree in Veterinary Technology. A former Veterinary Technician and dog trainer, she now spends her days homeschooling her children, writing, and snuggling with her many pets. Her guilty pleasures include chocolate, Downton Abbey, and cheap champagne. Credit for her romance writing goes to her parents and her husband, who taught her what true love really is.
The Fresh Pick is chosen by a group of readers and is never a purchased advertisement or promotion. We've picked this book because it appeals to us and we like to share our diverse tastes in reading and hope you'll give it a try.