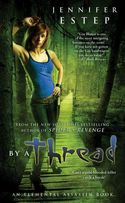 Elemental Assassin #6
March 2012
On Sale: February 28, 2012
Featuring:
Gin Blanco; Mab Monroe; Bria
384 pages
ISBN: 1451651767
EAN: 9781451651768
Kindle:
B005GG0LS4
Paperback
$7.99
Fantasy Urban

Great Urban Fantasy
Gin Blanco never thought she'd need a vacation from being an assassin. But a few weeks ago, she killed Mab Monroe, her nemesis and the most powerful Fire elemental in Ashland. Now, all the city's lowlifes are trying to make a name for themselves by taking out the Spider. So she heads south to a swanky beach town, along with her baby sister, Bria, for a weekend of fun in the sun.
But when an old friend of Bria's is threatened by a powerful vampire with deadly elemental magic, it looks like Gin will have to dig the silverstone knives out of her suitcase after all. But this time, her special powers might not be enough to prevent her from coming home in a pine box

Gin's Back For Round 6!

Retired or not, assassins don't actually get a vacation, do they?