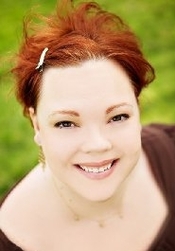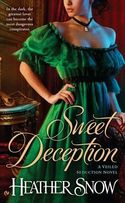 Lady criminologist, Miss Emma Wallingford, unknowingly finds herself tangled in the dangerous final mission of Lord Derick Aveline, a spy who also happens to be her long lost first love. But when deception, however sweet, is the name of the game, no one can be trusted. And every love—and every life—is at risk.
Hello! Heather Snow here and I am thrilled to be continuing my blog tour for SWEET DECEPTION here at Fresh Fiction. Thank you for having me back again! What I am doing for this tour is pulling back the curtain of Sweet Deception a bit, sharing a few of my favorite passages from the book each day while letting you in on the thoughts behind them. You can keep up with the stops (or go back and read ones you missed) either on my website or my Facebook page.
The past few days, I've shared quite a bit about my hero and how he literally rode onto the page, hijacked my story and immediately (and intentionally) got off on the wrong foot with my heroine—as those heroes are wont to do. So today, I thought I would start sharing some of the things I love about my Regency-era lady criminologist… Here's where we first hop into her viewpoint after she is challenged by the love of her life, who she hasn't seen in years, and who she'd thought she'd put behind her…
Emma Wallingford had never felt so riveted to one spot in her entire life. It was as if she were carved out of marble, much like the statues of the Greek scholars she'd so admired on her only trip to London. Move, Emma, you ninny!
What was this abominable awareness? Her logical mind told her it was only Derick. Yet her stomach fluttered, forcing her to amend that thought. Yes, it was Derick, but he was also . . . more. His hair was still black as night, thick and unruly, yet the lines of his face were more angular now, more chiseled. His shoulders seemed wider, his hips more narrow. His eyes hadn't changed, though. They still glittered like fiery emeralds and still gazed at her as if she were the bane of his existence, sent by Hades himself with the express purpose of bedeviling him.
"My—my lord." Billingsly, Aveline Castle's aged butler, brushed past her, his stooped form cutting through her line of sight, rescuing her from Derick's hard green gaze. Emma dropped her eyes to the floor, grateful for the moment to collect herself as the chaos of stammered excuses erupted around her.
His arrival shouldn't be such a shock to her—the entire village knew he was due today. Only she hadn't intended to come anywhere near Aveline Castle while he was in residence, but then Billingsly's note had arrived and—
Emma gasped. How could she have forgotten? She, of all people, didn't forget things like that.
Taking advantage of the continued distraction, she stepped forward and plucked the map from Derick's loosened grasp, berating herself for loss of focus. She spread it out on the table and resumed drawing the border she'd started. With dusk coming, time had become critical.
The voices around her stilled abruptly, and Emma could have sworn she felt Derick's gaze boring into her more surely than Archimedes' famed screw. Which was impossible, of course, as a mere gaze had no actual physical properties.
She didn't look up from her task as she said, "I'm certain Lord Scarsdale will agree that explanations can wait until after we find his missing upstairs maid."
I hope you can see a little about why I love Emma as a character. Here she is, reeling from the realization that feelings she'd thought long dead were very much alive, and yet she refuses to be pushed off task for long. Emma is stubborn, quirky, and rather brilliant (with the requisite ego that comes with a mind like that), so I had to think of something to offset that part of her personality.
If you'll notice, Emma's first thought is an admonishment, calling herself a "ninny". Like so many smart, capable women, she is incredibly hard on herself, and that makes her particularly vulnerable to the one man who'd always gotten under her skin. But since he is also the one man who comes to truly value her for everything that she is, it turns out not to be such a bad thing in the end! I hope you enjoy Derick and Emma's journey as much as I enjoyed writing it.
I'll be happy to give away a copy of my debut, SWEET ENEMY, the first book in this series. Please look out for SWEET DECEPTION, available now, wherever books are sold. To enter, simply leave me a comment and answer the question: What's the one thing in life you are most stubborn about?
Heather Snow is a historical romance author with a degree in Chemistry who discovered she much preferred creating chemistry on the page, rather than in the lab. She lives in the Midwest with her husband, two rambunctious boys and one very put upon cat. Find out more or connect with Heather at:
www.HeatherSnowBooks.com
Facebook www.facebook.com/AuthorHeatherSnow
Twitter www.twitter.com/HeatherSnowRW
SWEET DECEPTION Available NOW:
Rainy Day Books (my local indie) Amazon (Kindle Edition) Amazon (Mass Market Paperback) Barnes and Noble The Book Depository (free shipping worldwide) Books-A-Million IndieBound I-Books Walmart
To comment on Heather Snow's blog please click here.