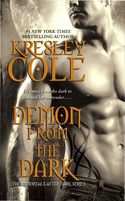 September 2010
On Sale: August 24, 2010
384 pages
ISBN: 1439123128
EAN: 9781439123126
Mass Market Paperback
$9.99
Romance Paranormal
Buy at Amazon.com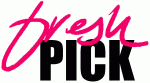 Demon From The Dark
by Kresley Cole
A DANGEROUS DEMON SHE CAN'T RESIST . . .
Malkom Slaine: tormented by his sordid past and racked by vampiric hungers, he's pushed to the brink by the green- eyed beauty under his guard.
A MADDENING WITCH HE ACHES TO CLAIM . . .
Carrow Graie: hiding her own sorrows, she lives only for the next party or prank. Until she meets a tortured warrior worth saving.
TRAPPED TOGETHER IN A SAVAGE PRISON . . .
In order for Malkom and Carrow to survive, he must unleash both the demon and vampire inside him. When Malkom becomes the nightmare his own people feared, will he lose the woman he craves body and soul?
Excerpt
Demon plane of Oblivion, City of Ash
Year 192 in the Rule of the Dead
"Do we go to our death—or worse?"
Malkom Slaine gazed over at his best friend, Prince Kallen the Just, wishing he had a better answer for him, anything to ease the apprehension in Kallen's eyes.
As the vampire guards shoved them along, deeper into their stronghold, Malkom suspected death might be welcome before the night was out.
"The rumors are likely untrue," he lied, putting up a renewed resistance as the dozen guards forced them down a flight of stone steps. But his bonds were mystical; Malkom was unable to teleport or break free.
At the base of the stairs lay a subterranean chamber with an ornate throne on a Read More…