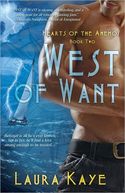 I'm very excited to be at Fresh Fiction to celebrate the release of West of Want, Book 2 in my Greek-mythology-inspired Hearts of the Anemoi series. This book tells the story of Zephyros Martius, Supreme God of the West Wind and Guardian of Spring, who falls in love with a human woman he nearly kills. I'm not sure why, but heroes are the characters who always come to me first when writing a book. They talk to me the loudest and explain themselves to me the clearest. So I really love writing my heroes, and thought I'd introduce Zephyros to you today by sharing five words that describe him, with the excerpts to back them up! Here we go:
Tortured
This situation was about to become shit meets fan. For gods' sake, he currently didn't have clothes, and until he warmed he'd be lucky to hold a conversation. Naked, nearly incapacitated, with no ability to dock the boat, and with a gravely injured woman on board, he had little likelihood of contriving a convincing story about how they'd gotten that way.
His presence was a liability here. He was useless. Again.
As the blue-masted boat neared, the captain called out, asking whether the True Blue was in distress. No one answered, of course.
And it was time for him to go.
Zephyros released his grip on the platform and eased the created current until it dispersed altogether. He sank beneath the surface, shaking nonstop, and hesitated just a moment. His gut clenched. He hated the idea of not seeing her to safety. Okay, in truth, he'd done that. But what he wanted was to see her to health—awake and conscious and warm and happy.
Happy? What did her emotions have to do with anything?
Fluttery panic ripped through his chest. The fact he was even thinking about her feelings was a major get-the-hell-out-of-there red flag. Getting involved was the last thing he needed. Hadn't he learned that? Again and again and a-fucking-gain?
No more.
The rescue sailboat came alongside the True Blue. A man's voice rang out above the water's surface. There. He would make sure she was safe, cared for, got everything she needed. The thought had Zephyros grinding his teeth in frustration. In self-defense.
In want.
No.
He wanted nothing and no one. And, in truth, no one wanted him either. So didn't that work out just perfectly, thank you very much.
Passionate
"Ella," he groaned and traced the shell of her ear with his tongue. "What do you want? This time, you tell me. I don't want to make any mistakes here, and I"—he swallowed thickly—"I can't…I have to…"
She whimpered. Heart, body and mind aligned, she didn't need to think about it. "In me. Need you in me."
His weight disappeared. Then so did she. For a split-second, her physical self seemed to vanish. And then they were on the bed in her room.
Dazed and awed, she laughed. "What just happened?"
Heavy-lidded eyes traced over her face. "I don't have the patience to act human right now."
"Mmm, I kinda like the sound of that."
"Gods, woman, you are driving me crazy." He sat up, straddling her thighs, and helped her remove her shirt. That flaring light returned in his gaze, and she swore she could feel it drag over her breasts. She bared them to his observation, and he caressed them with light fingertips that made her shiver. "Such exquisite perfection."
Her breaths coming in faster, shallower draws, she grabbed the hem of his damp shirt. "So, you can move us with your mind, but can't remove our clothes? Not an all-powerful god, then?"
Biting the inside of her lip to restrain the threatening smile, she looked up at him with what she hoped was innocence.
He blinked once and the cotton disappeared from her fingers. "Are you questioning my godhood?"
Mouth gaping, Ella dragged her gaze down Zeph's completely naked body. She couldn't restrain her huge grin. "Not…um, not anymore."
Powerful
A life force was fading.
The sensation tugged at Zephyros's consciousness, embattled as it was as he raged over the sea. Caught up in his own thoughts, his own pain, his own loss, he writhed and tossed, howled and lashed out. The wind and rain—nature's very energy—were his to control, even when he was out of control. But, still, the wrongness of the sensation tugged at him, demanded redress. In his elemental form, he felt the call of life and birth and renewal most strongly. He could ignore it no longer.
He forced himself to embrace the calm that had once been the truest manifestation of his nature. Around him, the clouds dispersed, the rains thinned, the winds settled to a bluster. The sea, black and roiling a moment ago, eased into the early spring chop typical of the bay.
Sacrificing
With a troubled sigh, Aeolus opened his palm and a rolled parchment appeared out of thin air. He unrolled the scroll and read. "Zephyros Martius, Supreme God of the West Wind, son of Aeolus, God of Storms and Ruler of the Winds, you are charged with three counts of unlawful use of divine magic in the form of healings, unlawful revelation of your divinity, and endangering the Realm of the Gods with reckless use of divine magic in the human realm."
Chrys cursed under his breath. "Why is Zephyros here alone when Eurus's infractions were the same or worse?"
Zeph ground his teeth and hoped Chrys would say no more. While he appreciated the thought, Zeph didn't need his father thinking of Eurus while administering his punishment. And, honestly, after the previous conversation, he wasn't nearly as surprised or troubled by the charges, although the last one seemed a bit kitchen sink to him. He wasn't certain what it referred to. Maybe dematerializing in a public place? Who knew.
Aeolus glared at Chrys. "I will deal with Eurus." His eyes were blazing when they cut back to Zeph. "Now, what say you?"
"Guilty on the face of it, my lord. But my actions were just."
"Is that so? Continue."
"The injuries I healed were the result of my own actions, thus I deemed no sacrifice necessary."
"You deemed it so?" Aeolus nodded, his face the picture of skepticism. "So, what you're saying is there were multiple counts of reckless use of divine magic."
Chrys spat an ancient expletive into the ringing silence between them.
Zeph recognized his mistake, but in point of fact it was a more accurate charge. "Yes, my lord."
Aeolus sighed. "You acquiesce too easily, Zephyros."
"If a sacrifice is required, I am prepared to make it. That is all."
Possessive
Zeph's arms gripped her tighter, yanking her fully against him. The rigid line of his erection pressed into her belly. "No, you don't. You don't understand how much you intrigue me." His head dropped so his lips caressed her ear. "You don't understand how much you attract me. You're in my head. All the time. You make my heart beat faster, my body ache with want." He kissed the shell of her ear and moved sinuously against her.
Her body came alive, tightening, opening, preparing. Ella gasped as he nipped and licked down her neck.
Then he growled. "What is this?" He tugged at the fleece collar around her neck.
"What?" she asked, trying and failing to keep up through the haze of lust.
"This…is this a man's shirt?"
Ella looked down. "Oh, yeah."
"I cannot abide it." His mouth dropped open and the dark blue of his eyes flared. "Please," he rasped.
Ella frowned. "I don't understand," she said, but she stepped back enough to pull the fleece over her head. She tossed it to the futon. "It was just my br—"
Zeph's mouth crushed to hers. His big hands buried in her hair. He pursued her, devoured her. His passion overwhelmed and overpowered. She stumbled back a half step here and there, until her shoulders hit the hallway wall.
Male spice filled her nose and tantalized her taste buds. Jesus, she couldn't get enough of him. She met him kiss for kiss, stroke for stroke. She sucked his tongue until he groaned deep in his throat, and then she did it again.
He grabbed her hands in one of his and braced them over her head, against the wall. He pulled away from the kiss, but kept their faces pressed together. They were both panting, chests heaving, their clothing wet everywhere they touched. He stroked her face, her neck. "I'm sorry. I didn't mean…I…" He pressed his lips to her cheek. "I couldn't stand seeing another man's belongings on you."
So, did I make my case?
If so, tell me which of the five pieces of evidence you most enjoyed and why! Oh, and GIVEAWAY!:  I'll offer one commenter who leaves their email address a signed paperback of West of Want. Open to international! Good luck!
And thanks so much for reading! ~Laura Kaye
Website | Blog | Facebook | Twitter | Newsletter SignUp
"Laura Kaye's captivating writing and vibrant world-building will have readers hooked on the gods of the Anemoi. WEST OF WANT is steamy, spellbinding, and a must-read for all romance fantasy fans." ~Elisabeth Naughton, author of the Eternal Guardians series
Praise for North of Need, Book 1 in the Hearts of the Anemoi Series:
~FF&P PRISM Award Winner for Best Light Paranormal Romance of 2012!
~GraveTells 2011 Book of the Year!
~Sizzling Hot Book Reviews 2011 Sizzling Read of the Year!
About WEST OF WANT:
Betrayal is all he's ever known, but in her, he'll find a love strong enough to be trusted…
When Marcella Raines' twin brother dies, she honors his request to be buried at sea, never expecting the violent storm that swamps her boat. Though she's gravely injured–and still emotionally damaged from her recent divorce–Ella fights to survive.
Zephyros Martius is the Supreme God of the West Wind and Spring, but being the strongest Anemoi hasn't protected him from betrayal and loss. Worse, he's sure his brother Eurus is behind it. When Zeph's heartbreak whips up a storm that shipwrecks a human, his guilt forces him to save her.
Ella is drawn to the vulnerability Zeph hides beneath his otherworldly masculinity and ancient blue eyes. And her honesty, empathy, and unique, calming influence leave Zeph wanting…everything. When Eurus threatens Ella, she and Zeph struggle to let go of the past, defend their future, and embrace what they most want–a love that can be trusted.
About Laura Kaye:
Voted Breakout Author of the Year in the 2011 GraveTells Readers' Choice Awards, Laura is the bestselling and award-winning author of over a half-dozen books in paranormal, contemporary and erotic romance. Growing up, Laura's large extended family believed in the supernatural, and family lore involving angels, ghosts, and evil-eye curses cemented in Laura a life-long fascination with all things paranormal. A published non-fiction author, Laura's work as an historian and training as an archaeologist help her create vivid and accurate portrayals of other times and places. She lives in Maryland with her husband, two daughters, and cute-but-bad dog, and appreciates her view of the Chesapeake Bay every day.
To comment on Laura Kaye's blog please click here