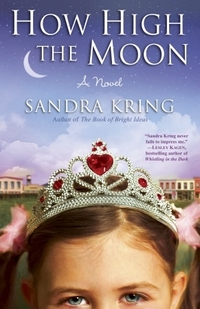 How High the Moon by Sandra Kring
In this tender novel set in 1955 Mill Town, Wisconsin, Sandra Kring explores the complicated bond between mothers and daughters, the pressure to conform, and the meaning of friendship and family.
From the author of "The Book of Bright Ideas, How High the Moon" illustrates that each person is both teacher and student–and that the only opinion that really matters is the one a person has of herself.
Ten-year-old Isabella "Teaspoon" Marlene has been a handful ever since her mother, Catty, dumped her with an old boyfriend and ran off to Hollywood. Teaspoon fights, fibs, never stops singing, and is as unpredictable and fearless as a puppy off its leash. Still, Teddy Favors, a man who has taken his share of kicks, is determined to raise her right.
Teaspoon wants to be better for Teddy—even if that means agreeing to take part in a do-gooder mentorship program and being paired up with Brenda Bloom, the beautiful reigning Sweetheart of Mill Town. Against all odds, as the summer passes, this unlikely duo discover a special friendship as they face personal challenges, determined to follow their hearts instead of convention.
It's while Brenda and Teaspoon are putting together the grandest show the Starlight Theater has ever seen that Catty returns to Mill Town, shattering illusions and testing loyalties. But by the final curtain call, one determined little girl shows an entire town the healing that can happen when you let your heart take center stage.
April 2010
On Sale: April 6, 2010
Buy at Amazon.com
Featuring: Isabella Marlene (Teaspoon); Teddy Favors; Brenda Bloom
368 pages
ISBN: 0385341210
EAN: 9780385341219
Trade Size
$15.00