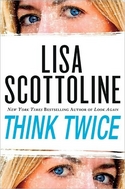 It's time again for another reading wrap up. In April I was able to read 10 books. I know a lot of people who read more than that, and just as many who read less. I really don't care how many anyone reads (with the exception of my friend Yvonne with whom I have a reading bet) as long as they read.
What was special about this month was that I read three library books. I read THINK TWICE by Lisa Scottoline, which was a first time, read for me from this author, and I really enjoyed it, and look forward to reading more from her in the future. I followed that up with WILD RIDE by Jennifer Cruise and Bob Mayer, and was really glad that I had gotten that from the library rather than investing in a Kindle version. The final library book was THE SHADOW OF YOUR SMILE by Mary Higgins Clark. It's been way too long since I read a book by Clark, and after closing the last page of THE SHADOW OF YOUR SMILE I'm ready for another. Thankfully I can just go to the TBR for a backlist book.
I also read MORE THAN WORDS VOLUME 6, which I would have bought even if it didn't have a story by my new favorite author Robyn Carr. I love this project from Harlequin, and have most of the Volumes and always feel so touched when I'm done of what some great women have managed to accomplish. These books definitely put you in the mood to be a volunteer.
Do you like cozy mysteries? If so then I would suggest Laura Childs who has three different series all going at once. I read my first book from her DEATH BY DARJEELING because she's phoning my book club, but it for sure won't be my last.
So there you go the highlights from my reading in April. What great recommendations do you have from your reading in April? Remember no bashing, but was there a book you think we should avoid? Inquiring minds need to know!
Until next week happy page turning.
Sandi Shilhanek
DFW Tea
Readers
Readers 'n 'ritas… celebrating literary obsessions
PS comment and you could win signed books in this weekend's blog contest. Two WINNERS!!!