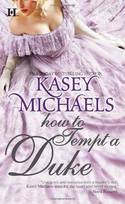 September 2009
On Sale: September 1, 2009
Featuring:
Rafael Daughtry; Charlotte Seavers
352 pages
ISBN: 0373773714
EAN: 9780373773718
Paperback
$7.99
Romance Historical
Buy at Amazon.com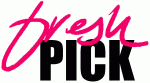 How to Tempt a Duke by Kasey Michaels
He'd returned from war a duke. Now Rafael Daughtry was battling a force more terrifying than Napoleon's army—his family. Thankfully, his childhood friend Charlotte Seavers had agreed—reluctantly—to a bargain. While Rafe would provide her with the home she'd lost, Charlotte would provide him with a chaperone for his unruly twin sisters.
But who would chaperone Rafe? For the feisty young girl he remembered had blossomed into a sensual woman—a woman whose haunting beauty and deeply kept secrets drew him like no other. Charlotte had good reason to mistrust men—yet could Rafe's sizzling seduction convince her to give in to temptation?
Excerpt
Charlotte Seavers was on the hunt. And she was in a mood to take no prisoners.
Only scant minutes earlier Charlotte had been comfortably ensconced in the drawing room of her parents' small manor house, happy in her ignorance, enjoying the sight of a mid-November frost glittering on the newly bare tree branches outside her window while she stayed warm and toasty inside.
But then the housekeeper had brought her one of the letters just arrived with the morning post.
After taking another sip of sweet tea, Charlotte had opened the missive from her good friend, read it in growing apprehension and disbelief until, with her newfound knowledge, her blissful ignorance turned to righteous anger.
"Unrepentant liars and tricksters! Wretched connivers!" she exclaimed, her teeth chattering in the cold, for she'd left the house without taking time to search out a Read More…