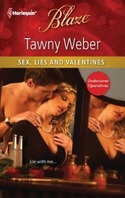 Undercover Operatives
February 2012
On Sale: January 24, 2012
Featuring:
Gabriel Black; Danita Cruz
224 pages
ISBN: 0373796706
EAN: 9780373796700
Kindle:
B006IIX0KK
Paperback
$5.25
Romance Erotica Sensual
Buy at Amazon.com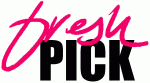 Sexy valentines…
Sex, Lies And Valentines
by Tawny Weber
Lie with me…
Con artist Gabriel Black just got busted. By a babe. Drool-worthy (and clearly sneaky) FBI agent Danita Cruz is forcing Gabriel to choose between hard time and scamming his own family for an undercover sting. Now he has to present Danita to his family as his girlfriend. And it's the perfect opportunity to get wickedly even with her….
But Danita has some tricks of her own, and Gabriel's control begins slipping away as raw sexual energy takes over. Their sham relationship starts feeling a lot like…well, the real deal. The Big Question is, will overwhelming desire be enough to make a liar go legit?

Will he be able to pull off the con of a life time to save his family?
Excerpt
Gabriel Black leaned back against the rich teak of the bar and smiled with satisfaction. At his elbow was a glass of the finest aged Scotch. His suit was Armani, his shoes were Fer-ragamo and his shirt was silk. In his pocket was the key to millions in internet stocks. Not bad for a Thursday night.
A natural born gambler, he had a talent for winning. And he had a feeling that tonight's win was gonna be a big one. "Buy me a drink?"
He glanced over and offered the pouty redhead with a set of dangerous curves a long look. With a flick of his finger, he motioned to the bartender to bring her whatever she wanted. As Moe placed a flute of champagne next to her, Gabriel offered a charming smile and tilted his head toward the men who'd just walked Read More…