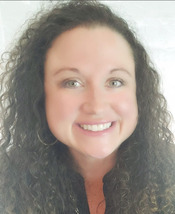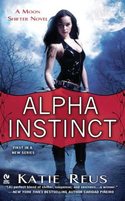 Thank you so much to the folks at Fresh Fiction for letting me blog here today.
I love paranormal romance because it's such a great escape from the real world. Not only is it prevalent in romantic fiction, but paranormal elements seem to be infiltrating television too (or maybe it's just the shows I watch: Supernatural, True Blood, Once Upon a Time, Fringe, Grimm, Ghost Hunters…and many more). For me that's a great thing! Well, maybe bad too because now that I've discovered so many great new shows it gives me an excuse to not work when I should be.
Currently I write paranormal romance for Signet Eclipse and Harlequin Nocturne (Cravings). ALPHA INSTINCT (which is releasing in less than a week!) is the first book in my new Moon Shifter series from Signet and I had a lot of fun creating this paranormal world. In the Moon Shifter world shifters and vampires made a unified decision to reveal themselves to humans a couple decades ago (and other paranormal beings just had to get on board). There were a multitude of reasons for their decision, advancement in technology being a big one.
The first five years after shifters came out of hiding were tense, but humans fought each other enough and there was never that bloodshed that many had expected. It probably didn't hurt that so many shifters had at one time worn a military uniform in the first two world wars. So governments 'accepted' paranormal beings. (As if shifters, vampires and faeries hadn't been around just as long as humans!). I love that since humans are aware of their existence, shifters and vamps are always under a microscope. It has added a lot of conflict and made writing this series so much fun.
What do you love about paranormal romance? One reader who comments on the blog today will be randomly selected to win a print copy of ALPHA INSTINCT (US eligible only). Good luck and thanks for stopping by!

ALPHA INSTINCT official blurb:
Fear has a scent. So does desire…
Ana Cordona has been a strong leader for the lupine shifters who survived after all the males and most of the females in her pack were mysteriously poisoned. As tough as she is, with no Alpha male, the pack is vulnerable to the devious shifter Taggart, who wants to claim both their ranch and Ana as his own. When Connor Armstrong comes back into her life, promising protection, it's almost enough to make Ana forget how he walked out on her before—and reluctantly accept his offer to mate.
The minute Connor sees Ana again, it reawakens a raw hunger. He must have her for his bondmate—his wolf cries out for it. But his human side knows he must proceed with caution because of their complicated past. If he is to truly have her body and soul, he must go beyond his burning desire and win back her heart. Whatever it takes, he is determined not to leave her side again.
But Taggart and his rival pack are not their only enemies. A human element in town is targeting shifters. Their plan not only threatens Ana and Connor's future, but the lives of the entire pack…
A little about me: I've been reading romance from a young age—ever since I discovered my mom's hidden stash. Luckily the addiction stayed with me into adulthood. I write paranormal romance and sexy romantic suspense for Carina Press, Harlequin Nocturne, and NAL/Signet Eclipse. To learn more about me please visit my website, my blog, facebook or find me on twitter @katiereus.
Thanks again for having me here today!
To comment on Katie Reus's blog please click here.