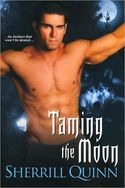 Moon #3
March 2010
On Sale: March 1, 2010
Featuring: Rory Sullivan; Olivia Felan
320 pages
ISBN: 0758231911
EAN: 9780758231918
Paperback
$14.00
Romance Paranormal
Buy at Amazon.com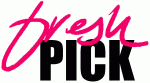 Taming The Moon
by Sherrill Quinn
An instinct that won't be denied…
Olivia Felan has a wild side, all right. Even ignoring the fact that she turns furry and feral once a month, her natural style is take-no-prisoners, full-speed-ahead, come-what-may. But when it comes to her little girl, she doesn't take chances.
So when a big bad werewolf alpha steals her daughter, Olivia will do whatever it takes to get her baby back. And in this case, that means killing Rory Sullivan. The trouble is, killing him would mean wasting one sexy beast.
Sully is all man, all cop, and as of late, half wolf. When he meets Olivia, Sully's a little glad he stuck his nose into his friends' business and came out with animal senses – until he gets a whiff of the chaos following her around. Now he has to decide whether he can't take his eyes off Olivia because she's too beautiful – or because she's too dangerous.
Excerpt
Olivia Felan held her daughter close, breathing in the sweet scent of little girl and bubblegum, and tried not to cry. She wouldn't give him the satisfaction of seeing her tears.
Through the open window she could hear the sounds of New York—horns blaring, tires screeching, sirens. Cool April wind blew into the room.
A shiver rolled down her spine, but it wasn't the coldness of the air that made her shudder. Thanks to her werewolf metabolism, her internal thermostat ran hot. No, what made her shiver was the thought that she could lose her daughter, that he would take the little girl from her forever. Fear coiled deep in her belly. The sounds of the City That Never Sleeps faded as she let the feel of Zoe in her arms soothe her.
"All right. That's enough." Brawny hands pulled Read More…