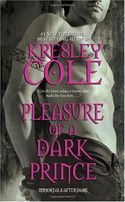 Immortals After Dark #7
February 2010
On Sale: February 16, 2010
Featuring: Lucia; Garreth MacRieve
448 pages
ISBN: 1416580956
EAN: 9781416580959
Mass Market Paperback
$7.99
Romance Paranormal
Buy at Amazon.com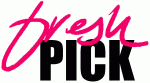 Pleasure Of A Dark Prince
by Kresley Cole
Can the beast seduce a beauty and make her love him…?
#1 New York Times bestselling author Kresley Cole enraptures again with this seductive tale of a fierce werewolf prince who will stop at nothing to protect the lovely archer he covets from afar.
A DANGEROUS BEAUTY…
Lucia the Huntress: as mysterious as she is exquisite, she harbors secrets that threaten to destroy her — and those she loves.
AN UNCONTROLLABLE NEED…
Garreth MacRieve, Prince of the Lykae: the brutal Highland warrior who burns to finally claim this maddeningly sensual creature as his own.
THAT LEAD TO A PLEASURE SO WICKED….
From the shadows, Garreth has long watched over Lucia. Now, the only way to keep the proud huntress safe from harm is to convince her to accept him as her guardian. To do this, Garreth will ruthlessly exploit Lucia's greatest weakness — her wanton desire for him.
Excerpt
Prologue
Thrymheim Hold, the Northlands
Home of Skathi, goddess of the hunt
In ages long past . . .
Lucia the Maiden cracked open her eyes and found herself atop an altar, staring up at a furious goddess. Somehow her younger sister, Regin the Radiant, had found Skathi's temple and had brought Lucia here.
From one altar to the next, she thought deliriously as her fever raged. Pain roiled inside her broken body. Her fractured limbs . . . never had she imagined such agony.
"You deliver this into my sacred place," Skathi the Huntress of the Great North said to Regin, "and desecrate my altar? You court my wrath, young Valkyrie."
Regin—all of twelve years old, with Lucia's blood covering her glowing Read More…