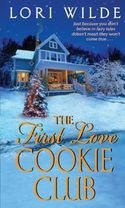 November 2010
On Sale: October 26, 2010
384 pages
ISBN: 0061988421
EAN: 9780061988424
Paperback
$7.99
Romance Contemporary
Buy at Amazon.com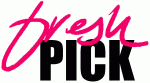 The First Love Cookie Club
by Lori Wilde
"On Christmas Eve, if you sleep with kismet cookies under your pillow and dream of your one true love, he will be your destiny."
The towns folk of Twilight, Texas, believe the legend, but not Sarah Collier—not since she was a pudgy teenager, running down the church aisle on Christmas Day in a jingle bell sweater and reindeer antlers, trying to stop Travis Walker from marrying someone else. She may be grown up, slimmed down, bestselling children's book author "Sadie Cool" now, but Sarah will never forget that day. And she'll never fall foolishly in love again!
But when a letter from a sick fan brings Sarah back to Twilight, she's shocked to discover that Travis is the little girl's father—unattached and hotter than ever. His movie-star smile still makes her melt, but Sarah knows that ship has sailed. Travis, however, might have different ideas.
And just because you don't believe in fairy tales doesn't mean they won't come true…

Fairytales really do come true.

Regrets run deep but love runs deeper