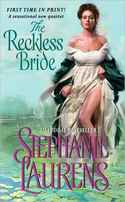 Black Cobra #4
November 2010
On Sale: October 26, 2010
Featuring:
Rafe Carstairs; Loretta Michelmarsh
464 pages
ISBN: 0061795194
EAN: 9780061795190
Mass Market Paperback
$7.99
Romance Historical
Buy at Amazon.com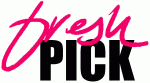 The conclusion of the ultimate road trip: India to England.
The Reckless Bride
by Stephanie Laurens
The final book in the Black Cobra Quartet
He races to complete their mission against escalating odds–his task made more perilous when he loses his heart.
She's determined to defy convention and live a solitary life–until she tastes the reckless pleasure found only in his arms.
Drawn together by fate, united by fiery passion, they pursue their shared destiny…one they'll live to see only if they unmask the Black Cobra.

Another exciting, sexually alluring and suspenseful novel in the Black Cobra Quartet series.
Excerpt
CHAPTER 1
November 24, 1822
Danube Embankment, Buda
Rafe walked out of the office of the Excelsior Shipping Company, tickets for two passenger cabins on the Uray Princep, a riverboat due to start up the Danube two days hence, in his pocket.
He glanced up and down the street, then strolled to where Hassan waited outside a nearby shop.
Rafe tapped the pocket of the well-tailored, distinctly European-style winter coat he now wore. "The last two tickets. No chance of an assassin getting on as a passenger, and the boat's too small for them to stow away or join the crew at the last minute."
Hassan nodded. Rafe was still getting used to the sight of his friend without his headdress.
They'd reached Buda two nights before. The first Read More…