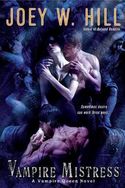 Vampire Queen #5
May 2010
On Sale: May 4, 2010
Featuring:
Anwyn Naime; Gideon Green
400 pages
ISBN: 0425234185
EAN: 9780425234181
Trade Size
$15.00
Erotica Paranormal
Buy at Amazon.com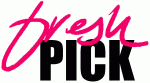 A 2010 Fresh Fiction Favorite Read.
Vampire Mistress
by Joey W. Hill
Sometimes desire can work three ways…
The fifth book in the sensational series of \"sizzling paranormal erotica.\" (Fresh Fiction)
Joey W. Hill returns to the dark and seductive landscape of her Vampire Queen novels as a desperate woman named Anwyn finds herself trapped between the desires of two men, each with his own mission of the night: vampire hunter Gideon Green and vampire Daegan Rei. But when Anwyn is attacked by a rogue bloodsucker, Gideon and Daegan must become allies in order to save the woman they both love.

Will the Vampire Hunter ever be able to find peace and accept his future?
Excerpt
Anwyn stood in the security room, her eyes trained on the surveillance screen for the Queen's Chamber. With the high canopy bed, lush draperies, and polished restraint systems, it was one of her favorite rooms. The stainless steel and gleaming wood instruments of pleasure and torture had been rendered by quality craftspeople. She'd spent a lot of time designing it, her own private fantasy room in a club dedicated to fantasy. In some ways, she considered it hers, though she took very few sessions herself anymore.
Running any business consumed a great deal of time, and Club Atlantis more than most. An exclusive BDSM club, Atlantis dared to cater to the most extreme players, the ones who wanted to step boldly over the lines and fully immerse themselves in a world few understood, even those who played at less strenuous levels. Knowing diversity was key Read More…