Fresh Pick for Thursday, April 3rd, 2014 is VAMPIRES NEED NOT…APPLY? by Mimi Jean Pamfiloff
#SupernaturalThursday Get Your BITE on!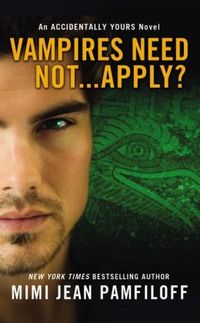 Accidentally Yours
Forever
April 2014
On Sale: March 25, 2014
416 pages
ISBN: 1455546992
EAN: 9781455546992
Kindle:
B00BOTU4A2
Paperback / e-Book
Add to Wish List
Romance Paranormal
Buy A Copy

Vampires Need Not…Apply?
by Mimi Jean Pamfiloff
Meet Dr. Antonio Acero. Heir to Spain's wealthiest family, world-renowned physicist, and dedicated bachelor. While on vacation in southern Mexico, Antonio discovers an ancient Mayan tablet. Local legends say it contains magical properties, properties that could put his stalling research on the map. But is this really his lucky break? When Antonio attempts to put the tablet to use, he'll discover that Fate has other plans. Her name is Ixtab, and she's quite possibly the deadliest deity who ever lived.

The Goddess of suicide sure knows how to break a seventy thousand year dry spell.