Do you love subscription boxes? I do. I think it stems in part from the joy and excitement of receiving mail when I was growing up. You know how it is—when you're a child, all mail is addressed to your parents. And then the day comes when you—yes, you—get a card addressed to you. Or maybe it's a magazine or a letter. Whatever it was, it was good. You weren't old enough to get scary mail—bills, IRS letters, family reunion invitations—yet.
[Although I did get unhappy mail from the Humane Society once. My friend Buffy and I lamented the fact that we had no money to send and no way—other than prayer—to help that poor monkey with the hand over her eye. I've never forgotten that monkey. Where were you, Sarah McLachlan, when that monkey needed you? Sorry for the digression…]
Fast forward to adulthood when mail becomes mundane. Now when you get something "good" in the mail, it's usually something you've ordered. It's seldom a surprise…unless, like me, an item sometimes takes so long to arrive, you forget you ordered it. That's where subscription boxes come in.
I get the quarterly box Fab Fit Fun, the monthly Sephora Play, and I got myself a three-month subscription to the Thrill Club mystery box (a box with two mysteries and a DVD). When a box arrives, some things are great, some are meh, and some are downright enigmatic. For example, in a recent Fab Fit Fun box, I received a charcoal toothpaste. I looked it up online to read reviews. The reviews for the toothpaste were mostly good, but there were photos of people using the product and their mouths were completely black. You couldn't even see their teeth! I discussed this with my son and said, "I don't know whether I want to try this or not." He said, "I'll use it…and then I'll come into your room and scare you." I laughed and replied, "I'd already planned on doing that to you if I use it!" So, you see, even things you're unsure about can be fun.
Given my love of subscription boxes, it was probably inevitable that I would create a launch celebration box for my latest release, Honey-Baked Homicide. The box contained a signed paperback copy of the book, a cozy scarf, candy, tea, and a few other goodies. Hopefully, the box brought lots of happiness.
Because I want one of you to get some happy mail too, I'm giving away a copy of HONEY-BAKED HOMICIDE and a cozy scarf to one lucky reader. Sorry, but this giveaway is limited to U.S. readers due to postage costs.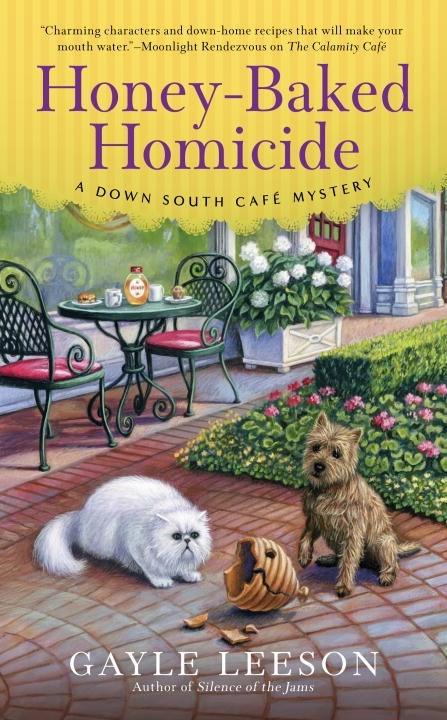 The owner of a delightful Southern café tastes the sharp sting of suspicion in this delectable comfort food mystery . . .
It's fall in Winter Garden, Virginia, and business at Amy Flowers' Down South Café has never been better. So when struggling beekeeper Stuart Landon asks Amy to sell some of his honey, she's happy to help. The jars of honey are a sweet success, but their partnership is cut short when Amy discovers Landon's body outside the café early one morning.
As Amy tries to figure out who could possibly have wanted to harm the unassuming beekeeper, she discovers an ever- expanding list of suspects—and they're all buzzing mad. She'll have to use all of her skills—and her Southern charm—to find her way out of this sticky situation…
Mystery Cozy [Berkley Prime Crime, On Sale: December 5, 2017, Mass Market Paperback / e-Book, ISBN: 9781101990827 / eISBN: 9781101990834]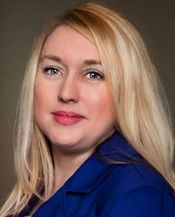 Gayle Leeson is a pseudonym for Gayle Trent. I also write as Amanda Lee. As Gayle Trent, I write the Daphne Martin Cake Mystery series and the Myrtle Crumb Mystery series. As Amanda Lee, I write the Embroidery Mystery series.
I live in Virginia with my family, which includes her own "Angus" who is not an Irish wolfhound but a Great Pyrenees who provides plenty of inspiration for the character of Mr. O'Ruff.