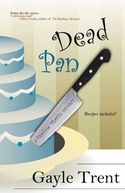 I'm thrilled to be a part of FreshFiction and to have the opportunity to introduce you to my series, the Daphne Martin Cake Decorating Mystery Series. The first book in the series is MURDER TAKES THE CAKE.
In MURDER TAKES THE CAKE, Daphne Martin returns home to Brea Ridge, Virginia, looking forward to realizing her dream of starting a cake decorating business. But when the meanest gossip in Brea Ridge dies mysteriously, suspicions turn to Daphne. But all Daphne did was deliver a spice cake with cream cheese frosting–and find Yodel's body. Now Daphne's got to help solve the murder and clear her good name. Problem is, her hometown is brimming with people who had good reason to kill Yodel, and Daphne's whole family is among them.
MURDER TAKES THE CAKE was published in 2008 but was released on October 16, 2009 in large-print hardcover by Thorndike. BBC Audiobooks in England has also commissioned large-print rights to the book.
Click here to read more and learn how to win a copy of DEAD PAN!