The best way to deal with the heat of summer is to find a place in the shade, or the air conditioning;), and read an incredible mystery. Mysteries full of spunky characters who act as spies, and everyday Janes who aren't about to let the wrong person be accused of murder. Read about a woman who loves her fiancee beyond any claim to the thrown, and a woman who will do what it takes to restore the historical clock tower in the center of town. Get lost in a heroine's traveling nightmares on her trip to Italy for her queen, and another's determination to keep love in the air despite the danger lurking in town.
Enjoy these mysteries—they're sure to keep you intrigued!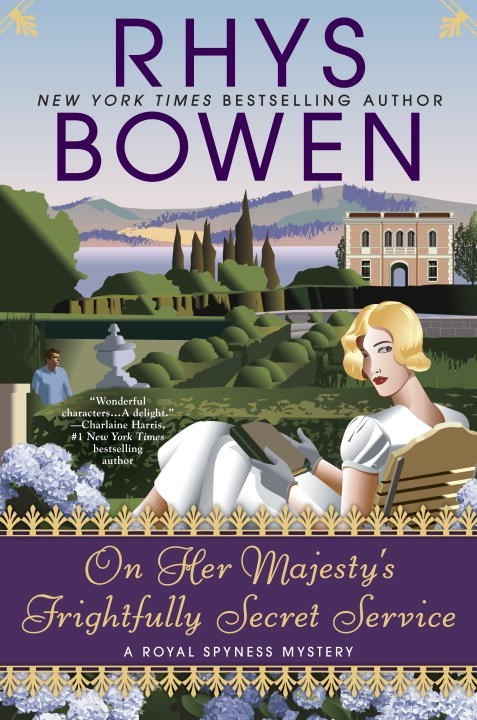 In the new Royal Spyness Mystery from the New York Times bestselling author of Crowned and Dangerous, Lady Georgiana Rannoch juggles secret missions from the Queen, Darcy, and her mother. But it's all in a day's work when you're thirty-fifth in line to the British Crown.
When Darcy runs off on another secret assignment, I am left to figure out how to travel to Italy sans maid and chaperone to help my dear friend Belinda, as she awaits the birth of her baby alone. An opportunity presents itself in a most unexpected way—my cousin the queen is in need of a spy to attend a house party in the Italian lake country. The Prince of Wales and the dreadful Mrs. Simpson have been invited, and Her Majesty is anxious to thwart a possible secret wedding.
What luck! A chance to see Belinda and please the queen as I seek her permission to relinquish my claim to the throne so I can marry Darcy. Only that's as far as my good fortune takes me. I soon discover that Mummy is attending the villa party and she has her own secret task for me. Then, Darcy shows up and tells me that the fate of a world on the brink of war could very well depend on what I overhear at dinner! I shouldn't be all that surprised when one of my fellow guests is murdered and my Italian holiday becomes a nightmare…
Mystery Historical [Berkley, On Sale: August 1, 2017, Hardcover / e-Book, ISBN: 9780425283509 / eISBN: 9780698410251]

Grab a Cuppa, Sit Back, and Enjoy!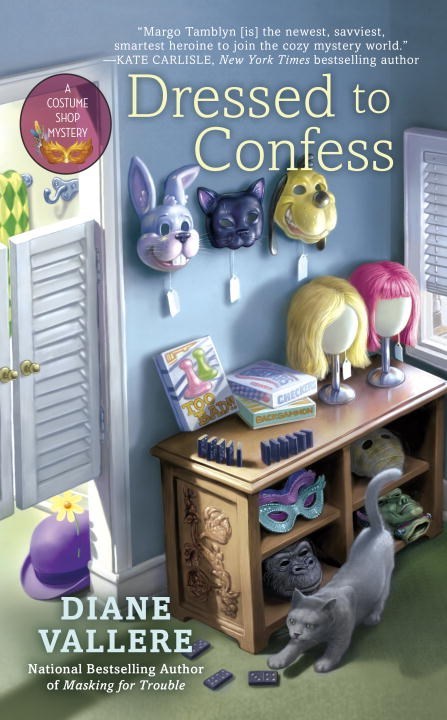 Someone is masquerading as a murderer at Proper City's annual Sagebrush Festival—and it's up to costume shop owner Margo Tamblyn to solve the case.
It's time for the annual Sagebrush Festival in Proper City, Nevada, and this year's theme is family game night. Margo Tamblyn and her dad, owners of the Disguise DeLimit costume shop, have provided costumes for local dance troupe the Domino Divas, who each wear a different color domino mask. When head dancer Ronnie Cass misses the performance, Margo finds her dressed to kill in her costume—and dead.
As the police investigate, Margo learns that Don Digby, her father's best friend, is the prime suspect, tied to the victim by a long-ago unsolved robbery. Now Margo must unmask the real killer before her dad's buddy winds up in prison stripes.
Mystery Cozy [Berkley Prime Crime, On Sale: August 1, 2017, Mass Market Paperback / e-Book, ISBN: 9780425278307 / eISBN: 9780698183452]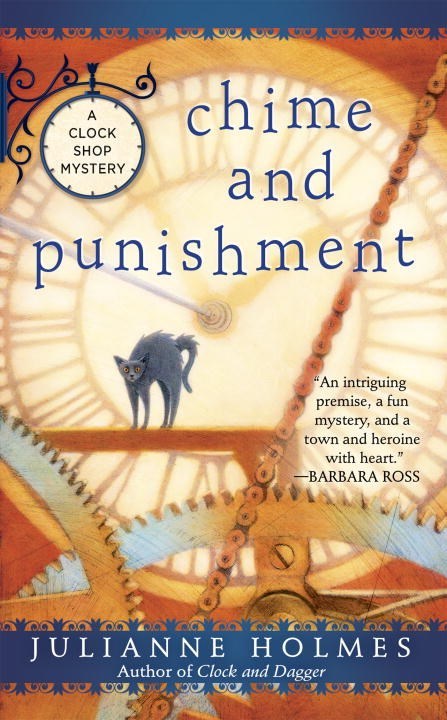 Expert clockmaker Ruth Clagan has another murder on her hands in the third Clock Shop Mystery from the author of Clock and Dagger.
Years ago, the serenity of picturesque Orchard, Massachusetts, was shattered by a fire that destroyed the town's beloved clock tower. Ruth inherited the dream of repairing it from her late grandfather. Now that she's returned home to run his clock shop, the Cog & Sprocket, she's determined to make it happen, despite wrenches that are being thrown into the works by her least favorite person, town manager Kim Gray.
A crowd of residents and visitors are excited to see the progress of the tower at a fund-raiser for the campaign, until Kim is found crushed under the tower's bell, putting an end to all the fun. The list of suspects is so long it could be read around the clock, and it includes some of Ruth's nearest and dearest.
Time's a-wastin' as Ruth tries to solve another murder in her beloved Orchard while keeping the gears clicking on her dream project.
Mystery Cozy | Mystery Amateur Sleuth [Berkley Prime Crime, On Sale: August 1, 2017, Mass Market Paperback / e-Book, ISBN: 9780425275542 / eISBN: 9780698164338]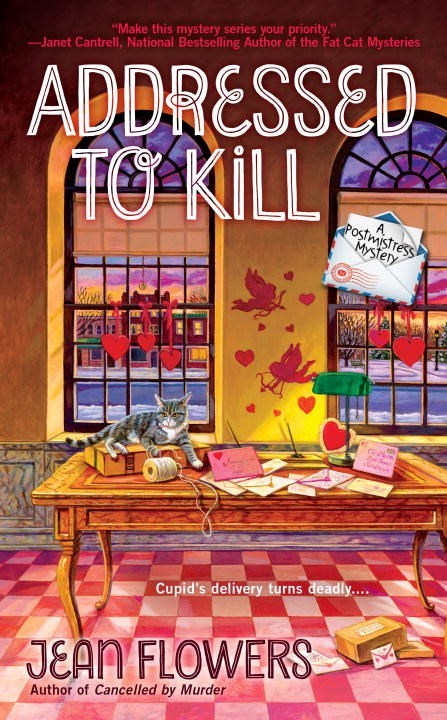 Third in the Postmistress Mystery series by Jean Flowers, following Death Takes Priority and Cancelled by Murder…
Love is in the air for postmaster Cassie Miller and the residents of North Ashcot, Massachusetts. Valentine's Day is right around the corner, and the town is gearing up for a special dinner dance at the senior center. With the local musical group performing at the dance displaced from their regular practice location, Cassie is all too happy to host them during off-hours at the post office.
But not everything is coming up roses. When one of the musicians, Dennis Somerville, is found shot in his home, rumors swirl over who might have wanted him dead. Cassie must determine if there is a link between a string of recent break-ins and Dennis's murder before another victim winds up with more than a broken heart.
Mystery Amateur Sleuth | Mystery Cozy [Berkley Prime Crime, On Sale: July 25, 2017, Mass Market Paperback / e-Book, ISBN: 9780425279120 / eISBN: 9780698185197]
Watch for my Dog Days of August giveaway here on Fresh Fiction! Until next time, get cozy and read on!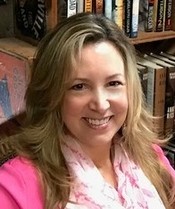 Kym Roberts is a retired detective sergeant who looks for passion, mystery and suspense in every book she reads and writes. She can be found on the web at
kymroberts.com
, on Facebook at
@KymRoberts911author
and on Twitter
@kymroberts911
.
Kym's Book Barn Mysteries Fatal Fictionand A REFERENCE TO MURDER, are on sale for a limited time for 99 cents! Get your copy today before the sale ends!