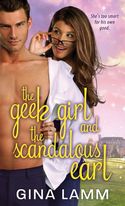 I'm very glad to be here at Fresh Fiction today! I thought I'd take a minute of your time and tell you how THE GEEK GIRL AND THE SCANDALOUS EARL went from an idea, to a manuscript, to a real, live book.
As I was thinking about this, holy cow, it just occurred to me when this whole thing started. In the summer of 2011, I decided to attend my first writer's conference. The only book I had ready at the time was out on submission, and I was hoping for a "yes" that never came. I wanted to hedge my bets, so even though there was barely two months before the conference, I started writing THE GEEK GIRL AND THE SCANDALOUS EARL.
I wrote quickly, and I poured myself into the story. I've never written that feverishly. But the holy grail of a face-to-face with real live editors and agents was a powerful motivator, and I got the story done. It wasn't polished as perfectly as I liked, but it was done, and it was enough to be able to pitch it. I did lots of research about pitching. I came up with a one sheet, sort of a single-page flyer about my book  concept with some eye-catching images and my bio. I had index cards and a plan. I was ready.
I drew two appointments with two different editors. I pitched to an agent first, who just happened to have an extra slot free. She was very encouraging, and I took that partial request with a gleeful heart. Someone liked my concept! This might actually work! And then, I sat down with Leah Hultenschmidt, Senior Editor for Sourcebooks Publishing. I smiled, I introduced myself, handed my one sheet, and opened my mouth to begin my pitch. But Leah stopped me.
"Is this your title?" The top of the one sheet said "Geek Girls Don't Wear Petticoats," which was the working title of the story. "This is so great!"
I never got the chance to pitch to her. My carefully crafted speech went by the wayside as she asked me enthusiastic questions about my characters, my story, and my world. Several minutes after my allotted time was up, we were run out of the room by volunteers who ushered the editors out to lunch, but we kept talking for a ways down the hall. Leah loved my story idea. She loved my characters. And, I really think, she liked me.  She asked for a full. And then she asked for some revisions, which I happily did. And then she offered me a contract.
Almost 18 months later, I've been to four bookstores in the past week, just to see my story on the "New Release" shelf. I've signed copies for family, friends, and total strangers. When I attended that writer's conference, I had nothing to show for myself but a short story contract and a novella contract. I had no previous publication credits other than promises other places had given me. But it didn't matter, in the end. The story was the thing. And now it's alive.
THE GEEK GIRL AND THE SCANDALOUS EARL is out now, and I couldn't be more thrilled that I took the chance.
To comment on Gina Lamm's blog please click here.