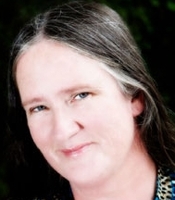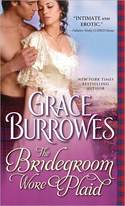 THE BRIDEGROOM WORE PLAID is my first venture into Victorian romances, and writing it necessitated spending many, many hours researching the period. I came across all manner of tidbits I couldn't widgie into the book, but would love to share:
1) Part of the reason the Thames hasn't frozen solid since 1815 is that when the Victorians put the London sewers to rights, they narrowed the river's channel, thus making the water flow faster. (And we haven't had the right sort of cloud ash, either.)
2) Queen Victoria, sometimes referred to as the "Grandmother of European Royalty," was also the source of hemophilia in several of the royal houses.
3) We have daguerreotypes of the Duke of Wellington as a handsome older gentleman. This surprised me—Waterloo was nearly 200 years ago, and yet, we have photographs of its hero!?
4) Queen Victoria's reign saw the first official air mail, which in 1890 used homing pigeons to carry messages between the islands of New Zealand.
5) Victorian doctors were the first to introduce women to the use of vibrators to achieve orgasm. Yes, you read that correctly.
6) The Great Stink in 1858 (before those sewers were put to rights) was soooo bad, the houses of Parliament closed.
7) The science of epidemiology got its start with the deadly cholera outbreaks in mid-19th century London, and the Victorians were the first to recognize "industrial" diseases (phosphorus poisoning among match girls) too.
8) Queen Victoria thought the enormous, exaggerated hoop skirts of the mid 1850s "stupid and dangerous," and more than one lady stood too close to a fire with tragic results. Victoria never wore them.
9) The Victorian medical establishment considered the suffering of childbirth a woman's deserved fate as a result of Eve's sin. Queen Victoria begged to differ, using anesthetic chloroform for the birth of her last two children, and making it an acceptable option for women throughout her realm.
10) Something I didn't find in any one research article: I really enjoyed setting a trilogy in this dynamic, fascinating time period, and hope to write many more Victorian romances.
New York Times and USA Today bestselling author Grace Burrowes keeps winning reader awards for her gorgeously imagined books. If you're already a fan, you'll devour her new characters and if you haven't yet discovered the richly drawn worlds of Grace Burrowes, you're in for a treat….
His Family or His Heart — One of Them Will Be Betrayed…
Ian MacGregor is wooing a woman who's wrong for him in every way. As the new Earl of Balfour, though, he must marry an English heiress to repair the family fortunes.
But in his intended's penniless chaperone, Augusta, Ian is finding everything he's ever wanted in a wife.
"Historical details enrich Burrowes's intimate and erotic story, but the real stars are her vibrant characters and her masterful ear for dialogue. Burrowes is superb at creating connections that feel honest and real." —Publishers Weekly, Starred Review
"Memorable heroes. Intelligent, sensual love stories. This author knows what romance readers adore." —RT Book Reviews, 4 Stars
ABOUT THE AUTHOR
Grace Burrowes is a bestselling and award-winning author of historical romances. Her debut, THE HEIR, was selected as a Publishers Weekly Best Book of the Year for 2010 in the romance category, and LADY SOPHIE'S CHRISTMAS WISH won RT Book Reviews Reviewer's Choice Award for Best Historical Romance of 2011 and was also nominated for the prestigious RWA RITA award. The author of the bestsellers THE HEIR, THE SOLDIER and LADY MAGGIE'S SECRET SCANDAL, Grace is a practicing attorney and lives in rural Maryland. She'll conclude to the Windham Family Series with Lady Jenny's story in October 2013, and will begin a new regency series with DARIUS in April 2013. The next book in Grace's Scottish Victorian series, ONCE UPON A TARTAN, will be in stores in August 2013. Please visit http://www.graceburrowes.com/ or follow her on Twitter: @GraceBurrowes for more information.
To comment on Grace Burrowes's blog please click here.