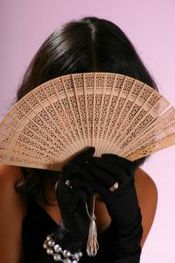 I don't know if this ever happens to you, but as a romance writer I often have family and friends anxious to tell me of their latest romance dilemma. From the perspective of most people, romance writers are thought of as the go-to person for love advice because we know how the guy can get the girl. But romance writers do not have all the answers when it comes to love, even though, we do have the ability to create heroes who can fly through the air, rule over kingdoms and woo women, in only a few hundreds pages.
So when a friend of mine told me that her husband had given her stainless steel pots and pans for her birthday, and that she couldn't believe how she could marry someone who has no sense of romance, I just shrugged.
It was not exactly the reaction she was seeking.
Then I said to her, "What did you tell him you wanted? Did you tell him you wanted pots and pans?"
After mulling it over for a few seconds, my friend replied, "Well, not exactly."
And right there was the beginning of the dilemma.
So I shared with her what I know to be true…men are not mind readers. They seldom think the way women do, and I remind myself about this truth, every time I sit down to write a love story.
So what do most men think about? Sports. Women. Sex. And believe it or not, romance. I know this because I've asked men the question, what do guys think about? Then I quickly tell them my reason for asking, which is to better understand their point of view. It helps me to write believable male characters in my novels.
Also, I go where men go to get answers about love. I visit websites on the internet where they read articles written for them with titles like Setting the Mood for Romance or Romantic Ideas or Does your Wife or Girlfriend think you're romantic?
I know this may seem an unusual way to understand why a majority of men do the things they do. But if you participate in the discussions that are specifically about romance, you'll get a better understanding of where men are coming from. Now sometimes the comments are outrageous. But other times, the comments are truly heartfelt by men who really do love their significant other, and don't know what to do.
 
At the end of the conversation with my friend, I asked her if it would be okay for me to share this story with you. She said sure and then I gave her the names of a few websites to visit. And guess what? It turns out that her husband, in comparison to a lot of other guys, is pretty romantic…because he loves her in his own special way.
 
My thanks to Fresh Fiction for the opportunity to guest blog, and I encourage everyone to leave a comment. Please visit http://www.ellorascave.com to buy my latest novel, Memphis Rising.
For anyone curious about the websites mentioned above, I have posted links to them at: http://www.havenisley.com and http://havenisley.wordpress.com
To comment on Haven's blog please click here.