1–What is the title of your latest release?
Knit, Purl, a Baby and a Girl
2–What is it about?
Knit, Purl, a Baby and a Girl is all about a young woman, Poppy, who finds herself accidentally pregnant after a one night stand with her stoner ex. She's not sure if she's ready to be a mother and she doesn't have a lot of support, so she joins a local Stitch n' Bitch to make friends and boost her confidence by finally following through on learning how to knit. What she's not expecting is to fall for Rhiannon, the hot butch clinic escort who's been giving her lessons. At any other time in their respective lives, it'd be a perfect meet-cute, but can commitment-shy Rhiannon with her chronic second sock syndrome handle the pressure of knowing that being with Poppy means taking on her baby-to-be as well?
3–What do you love about the setting of your book? 
Setting the book in Yonkers, New York was definitely a challenge. I've set past books in all sorts of locales, from Vancouver to Ireland to ancient Rome, some of which I haven't even visited, but New York, even if it's not NYC proper, seems to demand a degree of accuracy and attention to detail above and beyond the usual. People really don't like when you mess up New York. But doesn't everything just seem so much more cool and metropolitan by association? Okay, that'll probably sound like nails on chalkboard to a New Yorker too.
4–How did Poppy surprise you? 
All my characters have little pieces of me in them, and Poppy more than most. She's an anxious indecisive knitter who doesn't feel like she's lived up to her potential so far in life. What really surprised me about her, though, is the well of inner strength she draws on. How she meets the challenges presented in her life despite her insecurities. 
5–Why will readers love Rhiannon? 
Rhiannon is just so effortlessly cool. She's confident, she has her shit together, she knows who she is and where she's going in life. But when she's with Poppy she loses her sure footing and turns into kind of a dork. It's a character dynamic I really like, and I hope readers like it too!
6–What was one of your biggest challenges while writing this book (spoiler-free, of course!)? 
Oh God, without question it was trying to write my way through the American healthcare system. As a Canadian, trying to understand the ins and outs of insurance, care networks, medical bills and debt, all while giving my characters a happy ending? Oof! It introduces a layer of conflict to the book that just wouldn't exist if I'd set the book in Vancouver or Winnipeg or St. John's Newfoundland.
7–Do you look forward to or do you dread the revision process? 
A little bit of both! I love collaborating with an editor to make a book better, I love it when an editor sees things in the text that I didn't and we're able to explore those new avenues together and add richness to the story and the characters. I'm also a lazy sensitive baby who doesn't like to be criticized of have to do too much hard work, which is literally the entire revision process. So, you know, six of one and a half dozen of the other.
8–What's your favorite snack to have on hand while writing? 
In the Before Times, there was nothing I liked better than a day out writing with my bud Sheldon L'Henaff on Whyte Ave. here in Edmonton. I wrote a good chunk of KNIT, PURL fueled by the amazing decadent cakes and desserts at Block 1912, especially their chocolate cherry bomb of mousse and ganache, and I wrote "The End" with a cup of chai from Remedy Café.
9–Where would you go for an ideal writer's retreat? 
They actually host a writer's retreat right here in Alberta, at the Banff Centre in the Rocky Mountains that I've always wanted to go on. Alternately, there's a partially renovated castle in my husband's hometown of Athy, Co. Kildare that I'd love to take over with a bunch of other romance writers for a few weeks.
10–What's the best piece of writing advice you've received? 
Back in my college days, I sat in on a Q&A with Larissa Lai, the author of SALT FISH GIRL. I was struggling to find my purpose and voice as a writer, obsessed with the idea that if I couldn't write a Great Novel the first time out, then did I deserve to write at all? This truly great Lambda-award winning literary author told me to stop sweating the deeper meaning and just write the book I wanted to write, the book that was inside me, and those enduring themes that I genuinely care about will come through in my writing all on their own. I don't know whether my books will survive the test of time or if they'll ever be analyzed in undergrad literature courses, but they're books only I could write, and they exist, and they're mine.
11–Who is the fictional character you want to hang out with the most? (anyone in literature!)
I know she's a bit of a love-her-or-hate-her character, but I'd love to go shopping with Mac from Karen Marie Moening's FEVER series.
12–What's one of your earliest book memories? 
My dad reading Roald Dahl to me as a little girl. He used to do all sorts of different voices and accents for the various characters and it really brought the books to life. No wonder that now I'm so drawn to books with strong and unique character voices.
13–If you had to write in a different genre, what would it be and why? 
I've really found my niche writing New Adult contemporary queer romance these past few years, but I've had the idea for a YA magical girl anime send-up rattling around in my head for more than a decade and I'm getting closer and closer to just opening the word processor and making it happen already. That or a twisty time travel sci-fi that plays with paradoxes and the physics of time and parallel universes. You know, just some nice light genre fiction.
14–What song will automatically put you in a good mood? 
I'm never unhappy when I'm having a Beatles singalong with my five-year-old, but Mr. Blue Sky by ELO is a close second.
15–What is your favorite way to practice self-care?
Anything that involves just setting aside and dedicating uninterrupted time to prioritizing myself. Going to the movie theatre and seeing a movie I want to watch, whether anyone else does or not. Knitting something for myself using expensive bougie yarn. Playing several hours of videogames and letting the chores slide. Going thrifting and spending two hours going through every single rack and not worrying if I'm holding anybody up.
16–What can you eat and never get sick of? 
I am an absolute Oreo monster. If I buy a package, I am pretty much guaranteed to eat the entire thing in one sitting. I can't stop myself.
17–Will you share a favorite, recent-ish book you recommend? 
I recently read TIKKA CHANCE ON ME by Suleikha Snyder on the elliptical. The hero was sexy in an unexpectedly down to earth nerdy way, and I loved the super relatable heroine. I also spent the last several months hunting down each of the books of Alyssa Cole's RELUCTANT ROYALS series in print. I've read some of her other books and I love how she balances sexual tension, humour, and sometimes high stakes danger in her books. She really is an author of many talents.
18–Do you have any hobbies? 
I am ten hobbies in a trenchcoat. I knit, unsurprisingly. I sew. I thrift. I collect vintage crafting supplies, accessories, and clothes. I play video games. I bake. I swing dance. In high school I used to draw and paint. Since lockdown I've been getting into building puzzles and Lego. If I'm not busy at all times, I might just wither away.
19–Are you an early bird or a night owl?
Neither. I am only functional in the afternoon and early evening hours. Before 11am I am loathe to get out of bed, after 6pm I am loathe to get out of my sweatpants.
20–What can readers expect from you next? 
I'm currently writing a serial story for Harlequin Online Reads. It's a cozy lesbian romance about two lonely workaholic night owls and neighbours brought together by a fickle, greedy cat. Working title: The Night Cat. Look for it later this year!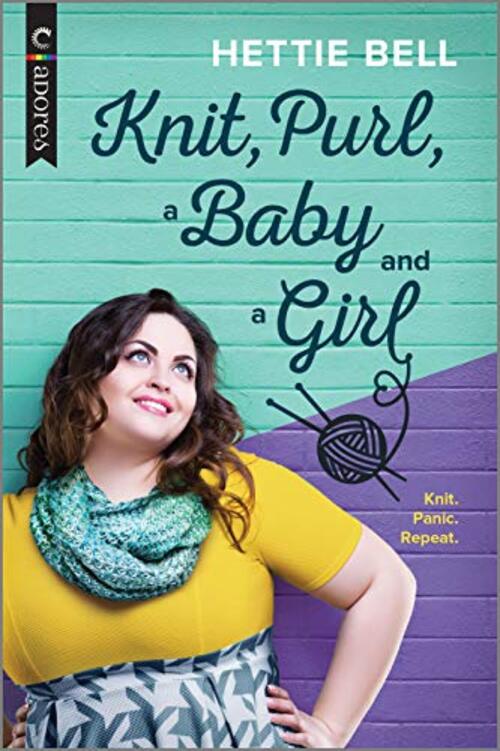 Some people can't wait to have babies. They're ready for it–with their perfect lives and their pregnancy glow…
Poppy Adams doesn't have a perfect life, and she wasn't ready for the positive test. An unexpected baby–Poppy's unexpected baby–won't exactly have her family doing cartwheels. But she's making the right choice.
Right?
Poppy's totally got this. She just needs a little encouragement, and a knitting group is the perfect place to start. Baby blankets, booties, tiny little hats–small steps toward her new life. But she feels like she's already dropped a stitch when she discovers the knitting group is led by the charismatic Rhiannon.
It's not exactly a great time to meet the woman who might just be the love of her life. While the group easily shuffles around to make room for Poppy, it's not so easy fitting her life and Rhiannon's together. With the weeks counting down until her baby arrives, Poppy's going to have to decide for herself what truly makes a family.
Romance Contemporary | Romance LGBTQ [Carina Adores, On Sale: March 30, 2021, Paperback / e-Book, ISBN: 9781335688002 / eISBN: 9780369704801]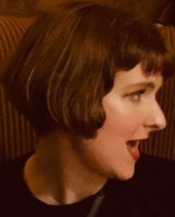 Heidi Belleau was born and raised in small town New Brunswick, graduated with a degree in history from Simon Fraser University in British Columbia, and now lives outside of Edmonton, Alberta, with her tradesman husband and two kids. A proud bisexual woman, her writing reflects everything she loves: diverse casts of queer characters, a sense of history and place, equal parts witty and filthy dialogue, the occasional mythological twist, and most of all, love—in all its weird and wonderful forms.