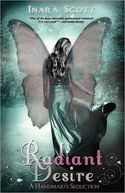 My friend and writing partner Susan Sey and I have often discussed the alpha hero. What makes him hot. How to keep him from becoming a jerk. How both of our husbands are alphas, even though they are completely different men.
We are romance writers and the sort of people who like to analyze things, so naturally, we can spend a lot of time on this subject. But our conversation often comes down to this: if we're writing an alpha male, what is his essential characteristic? How do we know when we've gotten him right?
First, let me debunk a myth: an alpha male doesn't have to be handsome to be sexy. We have all sorts of great examples of sexy alpha males who aren't pretty. Take Hugh Laurie — not the prettiest man alive, but I bet you wouldn't kick him out of bed for eating crackers. 🙂 His looks are almost immaterial; there's something about him that makes him sexy, regardless of the breadth of his shoulders or square cut of his jaw.
So what is that thing that the sexy alpha hero has got to have?
Absolute, unmitigated, and totally-deserved confidence.
Alpha men know they are good at something. Very very good. They walk into a room and own it, not because they are jerks with some desire to order people around, but because they know they have the skills to be the leader. Their prowess puts them in charge. They've got an ego, but it's an earned ego. If there's a crisis, the true alpha is going to know what to do.
Let's use Dr. House as our example. He knows he's the smartest guy in the room, and everyone around him knows it, too. He isn't sexy because he's a jerk: he's sexy in spite of it. And it drives us crazy because we know he doesn't deserve it but we're STILL ATTRACTED TO HIM. We are attracted to competence. To the men who get things done.
As House demonstrates, it doesn't have to be physical strength that turn us on. Intellectual capability works, as does a particular skill, or trade. An astrophysicist with a pocket protector can be hot. A train conductor can be hot. A computer geek can be hot. It's all in the moment in which he shows his competence and his confidence.
So readers…do you think I've got it right? Is the alpha male defined by his confidence? Why, or why not? And do you agree with me on this one: Brad Pitt doesn't have an alpha bone in his body? 😉
To comment on Inara Scott's blog please click here.