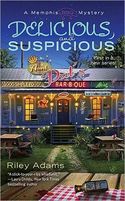 Summertime means having fun, being lazy and eating lots of good food – at least it does around my house! And around my house, with four big ol' boys to feed, we love and eat a lot of barbeque!
So I was so pleased to find out my good friend, Elizabeth Spann Craig, has written a new cozy mystery series featuring – barbeque!
Writing as Riley Adams, her first book in the "Memphis BBQ Mysteres," DELICIOUS AND SUSPICIOUS, debuts this month, and Elizabeth was kind enough to stop by to answer a few questions about her writing career and her love of cozy mysteries!
Sharon: At what age did you know that you wanted to be a writer?

Elizabeth: Sharon, I wish I could say that I had other career options! But writing is the only thing I can do…and I found that out at an early age. Probably by second grade, definitely by fourth grade. My father is an English teacher, and so I think the writing came naturally to me.
Sharon: How did you get interested in writing "cozy" mysteries?
Elizabeth: Cozies, or traditional mysteries, are my favorite mysteries to read. I cut my teeth on Nancy Drew and Trixie, and then moved on to Agatha Christies shortly after that. Now my bookshelves are crammed with the spines of cozy novels—from Christie to M.C.Beaton, to modern day authors.
Sharon: What appealed to you about the genre of cozy mysteries as opposed to hardcore mysteries or suspense stories?
Elizabeth: I do enjoy other types of mysteries, but I have to skip over the gritty parts! I love police procedurals and thrillers, but when the story gets too intense or too graphic, then I'll fast-forward a few pages until the coast is clear. So writing a cozy mystery, where the murder happens off-stage and there's no gory description, came naturally to me.
Sharon: What inspired the Memphis BBQ theme of your series? And where did you find those yummy recipes that are included?
Elizabeth: If there were an official food of the South, barbeque and grits would vie for bragging rights. Barbeque is serious business in Memphis, prepared with lots of love and pride. I wanted to pull in Memphis' tradition of food, music, and fun to my fictional Aunt Pat's barbeque restaurant and really make the readers feel like they were on a mini-vacation.
The recipes were mainly from word-of-mouth recipes and old recipe cards from my family. My mother drives me a little batty by not writing down her recipes…but I think now I'm getting her to record the 'dashes' and 'pinches' of things she tosses in her cooking—for posterity's sake, if not for my books' sake.
Sharon: Your main character is a lively restaurant owner – where did you gather your inspiration for Lulu Taylor and her family?
Elizabeth: Lulu is a tribute to the many funny, strong, loving Southern women who helped raise me. There are so many traits that Lulu has—from humming in the kitchen, to fussing at being on hold, to automatic endearments that are shared by my grandmothers and mother.
Sharon: With more and more series coming out in the cozy genre, do you see the competition for readership becoming more fierce? What do you do to keep your readers coming back for more?
Elizabeth: My experience as a reader in the genre is that the more cozies I read the more I want to read, and the more I purchase. I think that many cozy readers are avid mystery lovers and there's room for all of us in the genre. What I hope, though, is that readers will connect with my characters and the Southern settings that I enjoy writing so much.
Sharon: The cover art on your books is just gorgeous – very eye-catching! Who does the artwork for each book, and are you consulted as to how it will look?
Elizabeth: Isn't it pretty? Hugh Syme did the artwork for Delicious and Suspicious. Usually my editor will submit my manuscript to the art department and they'll pull elements out for the cover. Then my editor sends me a draft of the cover and asks for my thoughts. I loved it right away!
Sharon: Who are some of your favorite authors? Who inspires you?
Elizabeth: M.C. Beaton is one of my favorite cozy authors—I just love her Scottish Hamish Macbeth. I'm also a huge fan of Elizabeth George and Deborah Crombie, who both write police procedurals. I'm inspired by the number of books these ladies have written and the way they've kept their series fresh and interesting throughout.
Sharon: What do you have coming up in the future?
Elizabeth: The second of the Memphis Barbeque mysteries should launch early next year and I'm currently working on the third. I'm also working on developing another cozy series.
Sharon: What advice would you have for anyone wanting to break into the "cozy mystery" genre?
Elizabeth: Of course you'll want to read the genre—there are a ton of great books out there to take a look at. That's the best way for you to know how cozies are structured. You'll want to write an amateur sleuth with a plausible reason to investigate, suspects and secondary characters that are off- beat or interesting, clues that play fair with the reader and give them a good puzzle to figure out, and possibly a good sidekick for the sleuth to confide in and bounce ideas off of.
My thanks to Elizabeth Spann Craig for stopping by the Cozy Corner! For more information on her Memphis Barbeque series, and other projects she has coming up, check out her website at http://mysterywritingismurder.blogspot.com
She is also a member of a lively group of cozy mystery writers who love to cook – check out their fun and yummy at http://mysteryloverskitchen.com
Be sure to stop by next month when Carolyn Haines, author of the Sarah Booth Delaney Mystery series, will be stopping by to chat with us!
Until then, cozy reading ya'll!