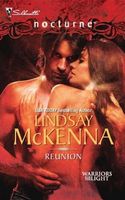 This six book series began with a bang in October, 2006. UNFORGIVEN was the launch book for Silhouette Nocturne. It was exciting to create the first book for this paranormal series. As I huddled with Tara Gavin, Senior Editor of the line, I wanted to create more than one book. I wanted to create my own universe of sorts. Warriors for the Light was born!
I was able to write book #2 and #3, DARK TRUTH (July, 2007) and THE QUEST (Feb. 2008). And then as I had plans for the other three books, real Life took over. My mother's health declined and for the next year, I put writing aside. It was only in 2009 that I was able to pen the last three books of the series. A writing marathon, to say the least. Now, the good news is REUNION, April, 2010, THE ADVERSARY, May, 2010 and GUARDIAN, June 2010, will roll out, one after another.
The WARRIORS FOR THE LIGHT series is about the Emerald Key necklace that was created by the Incan Emperor, Pachacuti, In the 1500's before the Spanish invaded Peru and disassembled the vast Incan Empire, he was their last, great emperor. I've spent six weeks down in Peru around Mach Picchu, where he lived. There's a very special and mystical energy to this incredible mountain retreat. If I could go there and live, I would.
When I went to Lima and visited the Museum of Gold, I saw many incredible Incan burial items. Among them, an emerald necklace, each sphere the size of a golf ball and utterly clear without inclusions. And emeralds almost always have lots of them. I remember staring through the glass and gawking at this huge necklace that contained these golf-ball sized emerald spheres on it. I was just stunned by their size and beauty. I'll send along a photo of it so everyone can see it. From that "meeting" with this necklace, the Warriors for the Light were born.
UNFORGIVEN, the launch book, takes the readers back to when the Emerald Key necklace is rediscovered….and the legend behind it. The emerald spheres were disassembled from the necklace and Incan priests and priestesses went around the world and hid them in sacred, powerful places. The legend was that whoever could find all the spheres and reassemble it and wear it, would change the energy of the Earth forever…for bad or good. And so, the series is about good versus evil. And who will find the spheres first? The bad guy, Victor Carrancho Guerra? Or, the good guys, the Vesica Pisces Foundation in Quito, Ecuador? You have to read the books to find out.
I'm including a photo of this incredible emerald necklace with gold spacers. Each Emerald is hand hewn, hand rubbed and nearly clear. Anyone who knows emeralds, know they usually have a 'garden' of inclusions (lines/fractures) through them and that there are very, very few in the world that are this translucent. And just looking at this necklace catalyzed my idea for this series. An amazing event in itself!
Warmly, Lindsay McKenna
Books out in 2010:
HIS WOMAN IN COMMAND, Sil. Suspense, March, 2010, Black Jaguar Squadron/Morgan's Mercenaries, book 1 of 3) Nike's tale.

REUNION, Warriors for the Light, Book 4, April, 2010, Silhouette Nocturne, Lindsay McKenna (Great Serpent Mound, USA)
THE ADVERSARY, Warriors for the Light, Book 5, May, 2010, Silhouette Nocturne, Lindsay McKenna (Banff National Park, Alberta, Canada)
GUARDIAN, Warriors for the Light, Book 6–final one to wrap up the series, June, 2010, Silhouette Nocturne, Lindsay McKenna (Rosslyn Chapel, Scotland)
DANGEROUS IDENTITY, HQN, December 2010, Lindsay McKenna. Beginning of Jackson Hole, Wyoming ongoing series in HQN. Book #1. Deputy Sheriff Cade Garner and Rachel Carson's story.
To comment on Warriors For The Light and for a chance to win please click here.