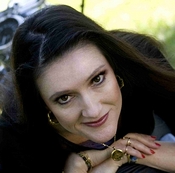 Petra is vexed by Cheveyo, the mysterious shapeshifter who captured her heart but walked out of her life. He's been watching over her from the shadows, but a supernatural evil threatens Petra and her people, forcing him to step in and protect his beloved. Now she must become a warrior to face down enemies with fur and claw … and dare to love a man whose darkness could destroy them both.
MY FIRST SHIFTER
I know, it sounds like a YA novel about first … love, I guess. See, the funny thing is, I never planned to write about shifters. I read a couple of series about werewolves and werelions, but creatures aren't my thing. I like to write about psychic stuff, people who have these crazy abilities to, say, set fires with their minds or remove view. I like to write about things somewhat based on reality.
So this guy pops into the beginning of book 2 in my Offspring series, OUT OF THE DARKNESS, and freakin' turns into a panther. Really, I was like … whaaa? I had no idea who he was, why he was saving the heroine, and I already had her hero figured out. If you read romance, you know that the expectation is, if there's a hot guy introduced in the beginning, and he doesn't kill the heroine, he's probably the hero. So I had this problem, because this guy was definitely hot. What was I going to do with him?
It turned out that Cheveyo's role was to take Zoe to people like her so she'd be safe. And he has a psychic connection with Petra, whom he summons from sleep so he can turn Zoe over to her. And they have this spark. Then he tells her he can't stay and off he goes into the night. When he makes another appearance in BURNING DARKNESS, it's her life he's saving, her mouth he's kissing, and again, he tells her that even though they're soulmates, he cannot be around her for her own safety.
Still, I did not know who this guy was or why he couldn't be with her. But clearly, I was going to have to write his story or Petra would kill me. I only found out those details when I started working on their story: BEYOND THE DARKNESS.
Writing the Offspring has been very interesting in that aspect. I'm a plotter, in general, though open to meanderings and, obviously, surprises. But there were aspects to the series that I didn't trouble myself to pin down. Like why my people had extraordinary psychic powers. I've had a lot of fun watching it unfold. First we thought the Offspring had the DNA of aliens, but no, that didn't sound right, and so the next book revealed it was actually people from another dimension, and out came the physics books! Guess what? It could happen. And with that came the possibility of other interesting creatures. Not your typical weres, however. I like to forge my own path, so we have some different sorts of villains for Petra and Cheveyo to contend with.
And remember Pope? He appeared in the first book,  A PERFECT DARKNESS, consorting with the villain. He was another of those mysterious characters whom I had no idea how he played into the scheme of things. Along with my readers, we found out in BURNING DARKNESS, and now he plays a bit more of a role in the new book. And from early responses, and my own, it looks like he's going to have his own story to tell later on.
Life can be that way, too, leading us in directions we would never have imagined. Something that seems bad may, in fact, throw you into a situation where you grow and even excel. It may expose people to be imposters, or even villains disguised as friends. The one thing I hope you take away is that you should follow that meandering path of life. Wherever it leads you will be another adventure, and isn't that why you're here?
Win a copy of A PERFECT DARKNESS, the first book in the series! Leave a comment, either general or tell us how life's meandering road changed your life for the better.
To comment on Jaime Rush's blog please click here.