I have often been asked if I am anything like the main character in my Culinary Competition mystery series, Amy Ridley. There are a few things, like we are both short and blonde, but the biggest connection is a mutual love of trying unusual foods. Amy uses the unique ingredients she finds to develop prize-winning recipes. While I have never competed in a culinary competition, I write my foodie finds into my books. There's a running joke in my family that the odder a food is, the more likely I'll buy it. Fermented foods, condiments and dried goods like unusual varieties of rice or ancient grains are some of my favorite things to buy.
Recently, on a trip to Detroit's historic Eastern Market, I stopped by a store that had a large selection of bulk foods from shawarma spice to dried beans. I got a small bag of Scarlet Runner Beans, which I've had fresh but never dried, and another variety of bean that I had never heard of before – Lupini. When I got home I decided to look up directions for how to prepare the Lupini beans. I clicked on a blog post with instructions and, I admit, did a double take. The soaking time was over a week in a salt solution which needed to be changed twice every day. That was odd. So I looked closer at the blog post parts which I had skimmed over. The long soaking process is used to leech out the toxins, bitter alkaloids, in the beans.
Yes, in my quest for sampling unusual foods, I bought poisonous beans. Not so great for me, but I can totally imagine them appearing in one of my books in the future. I am very glad I decided to look up cooking directions instead of doing the soak overnight and simmer until tender method that I usually follow with dried beans. I will try many things, but even I was freaked out with the warnings to not use plastic bowls or utensils as the poison could soak into them. I like beans, but not that much! So I threw them away because I was afraid to sit them on any surface in my kitchen when they were only contained in a thin, plastic bag.
So much for my plans to make a tasty bean soup with my exotic Lupini beans. The following bean soup, made in a slow cooker, is one of my favorite winter-time meals. It's thick and hearty on a cold day. And completely safe to eat when made with Great Northern beans.
Slow Cooker Ham & Bean Soup
Ingredients
1 lb. dried northern (white) beans
2 smoked ham shanks or meaty ham hocks – 1½ to 2 lbs. total
1 small onion, finely chopped
1 medium carrot, diced
2 dried bay leaves
6 cups water
Salt and pepper to taste
Instructions:
Sort through the beans and pick out any debris. Place in a strainer and rinse with water to remove any dust or dirt. Add all of the ingredients to a slow cooker. Cook on low for about 8 hours, or until the beans are tender. Remove the meat from the shanks, shred and add back into the beans.
Giveaway
Today is the one year anniversary of the release of CHICKEN SOUP & HOMICIDE. To celebrate it's on sale for $.99. I am also giving away a signed paperback of the book. Please comment on this post and tell me what is the strangest or most exotic food you have ever eaten (or bought and have been afraid to eat)?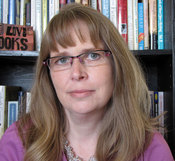 Janel Gradowski lives in a land that looks like a cold weather fashion accessory, the mitten-shaped state of Michigan. She is a wife and mom to two kids and one Golden Retriever. Her journey to becoming an author is littered with odd jobs like renting apartments to college students and programming commercials for an AM radio station. Somewhere along the way she also became a beadwork designer and teacher. She enjoys cooking recipes found in her formidable cookbook and culinary fiction collection. Searching for unique treasures at art fairs, flea markets and thrift stores is also a favorite pastime. Coffee is an essential part of her life. She writes the Culinary Competition Mystery Series, along with The Bartonville Series (women's fiction) and the 6:1 Series (flash fiction). She has also had many short stories published in both online and print publications.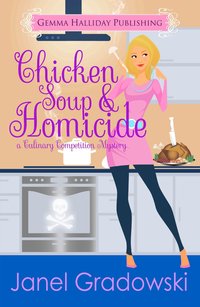 Amy Ridley has to do more than cook chicken soup, she has to solve a murder.
Amy Ridley and her friend, Sophie, have perfected their chicken soup recipe, and the winter-weary residents of Kellerton, Michigan can't wait to watch them compete against other local chefs in the Chicken Soup Showdown. But the charity event starts out with a bang, literally, when one of the rival chefs falls out of a freezer and onto Amy. If it wasn't stressful enough for Amy to catch a dead body, the detective in charge of the investigation targets her best friend, Carla, as the chief suspect in the murder.
In order to clear her friend's name, Amy does her own investigating. The problem is nobody liked the arrogant murdered celebrity chef, and soon her suspect list is longer than the list of ingredients in her secret chicken soup recipe. Can Amy figure out who killed the celebrity chef? Or will Carla be spending the spring in jail?
**Recipes Included!**