Hi, ya'll. I'm Romance author Min Edwards and I'm a misplaced Texan.
I was raised in the Texas Panhandle in an oil refinery company town. I think most of those have disappeared now, but it was an interesting place to grow up. I left that oil refinery behind as soon as my high school diploma was in my hot little hands and journeyed off to college, Texas Tech University, married, and also left as soon as that BA degree in Anthropology was mine… didn't even wait for the ceremony. I then spent a few years, eleven to be exact, in far-flung places, the Philippines, London, Cuba (Guantanamo Bay), London again, Maine, then back to Texas for the next few decades. During that time I went back to school—I seem to be a perpetual student—and received an MA in Anthropology from The University of Texas at Austin. In 2011 I got a wild hair up my… well you know where… and left all my friends, family and the vibrancy of Austin, and moved lock, stock and barrel—and there were a lot of barrels—to the upper coast of Maine. So far up that I'm even several hours east of Bar Harbor! I know that's confusing, but the geography of Maine confuses even me, an almost native.
Now I'm an author. Whew. It was a long and winding road.
So, since I write Romance, Romantic Suspense to be exact, I have some questions for ya'll. How do you like yours, romance that is? Sweet, steamy, downright erotic? This inquiring mind wants to know… it's research, you see. Besides, I not writing just for myself but for my readers.
Romance—
How sweet, steamy or erotic do you like it?
Does off-color language offend you? My bad guys and my heroes… and in fact occasionally my heroines… sometimes let those expletives fly.
Do you like description or is emotion more your cuppa tea? I also write straight Romance, so I need to know this. Would you like to picture the waves making the shingle beach sing, the colors of fall draping the landscape in vibrancy, the quaintness of village life? Or would you like to feel the beating of hearts, the internal dialogue of sexual tension?
As for those love scenes—do you want to know the ins… and outs… of putting tab A into slot B? A Kama Sutra-ish dialogue? Or do you prefer the stardust and fireworks kind of description. I know this seems a little basic, but sometimes when I'm reading a novel, too much specificity makes me a little uncomfortable and I start thinking about the mechanics and not the romance.
Finally, if you like Romantic Suspense, do you prefer the Suspense over the Romance, vice-versa, or a balance? I ask this one because just recently my editor came back to me with "Min, isn't this book supposed to be a Romantic Suspense? I see the suspense, the sexual tension, but where's the romance?" I was so caught up in the action, the running, the fighting, the the danger—the exotic snakes—and my characters were often separated by hundreds if not thousands of miles… that the kissing and other intimacies fell by the wayside. So together we tweaked the story-line and got that romance back in the game. You gotta have an editor, folks!
What do you think? Be honest. I promise this information won't be used against you in a court of law. Sorry, my heroine in the current novel, STONE FALL, is an attorney. See, we authors truly sink ourselves into the lives of our characters.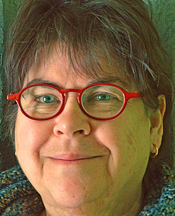 Min Edwards is the pen name of Archaeologist and owner of A Thirsty Mind Book Design, Pam Headrick.
She has lived in many countries in her life—England, the Philippines, Cuba, Texas (yes, Texas thinks of itself as a separate country)—gathering experiences for her writing along the way. She earned Undergraduate and Graduate Degrees from Texas Tech University and The University of Texas at Austin in Anthropology with minors in Art, Geology and Geography, and she spent her early professional career as an Archaeological Illustrator of some renown. Radically changing track in 2004 and opening an Independent Bookstore in an affluent community outside Austin, Texas, A Thirsty Mind Words & Wines—one of the first bookstore/winebars in the country—started her on her road to careers in bookselling, book formatting for eBooks as well as print. But the real impetus to actual writing came from an invitation in 2012 to join two panel discussions at the yearly NINC Conference in White Plains, New York. She met published and self-published authors, agents and industry professionals. And yes, that was all during the onslaught of Hurricane Sandy. Her plane was the last one out of the airport that day. Another adventure to add to her repertoire.
Min works now from her cozy—and safe—kitchen in a 180 year old Greek Revival farmhouse at Pheasant Cove Farm just 300 yards from Cobscook Bay, an arm of the Bay of Fundy. In the summer. she walks on her private beach every day, listening to the song of the pebbles being washed back and forth in the tide. It's a musical and inspiring sound. In the winter though, she'd rather the beach be sand and maybe transported to someplace warmer… Tahiti seems to be most often on her mind.
Her first novel, STONE BAY, a Contemporary Romance, was published in March of 2014. It was followed by a new Romantic Suspense series, Hide Tide Suspense, bringing danger to the small village of Stone Bay, Maine. Out now in the series are STONE COLD, STONE HEART and STONE FALL. Coming soon is the final story in the series PRECIOUS STONE with its prequel, THE RUSSIAN PHOENIX, a women's fiction historical novel.
Min is excited about the coming year when she'll finish out her High Tide Suspense series and begin her TARE: Talon Archaeological Research and Exploration series promising more excitement and adventure, exotic locations, and some steamy romance. The first book in the series, THE RUBY EYE, is scheduled for publication in the summer of 2016.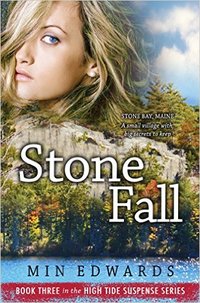 She's running for her life. He's vowed to save her, whether she wants him to or not.
Sandra Hastings has just lost the case of her career. Mob boss Silvestre Buonovenura is exonerated and now out to get her. And if that's not enough, the New York DA's office has politely asked her to take some time off… maybe a lot of time… maybe forever.
Nick McCullough is a little bored with tiny Stone Bay, Maine, and his new job as Chief of Police. He's hopeful though that a weekend camping with the lovely Sandra Hastings might just be the answer to his prayers, get him back on track, lift his spirits. Now he has to make sure that the mob boss who's put a hit out on her doesn't get the chance to complete his plans. Maybe his little weekend away won't be as restful as Nick had planned.