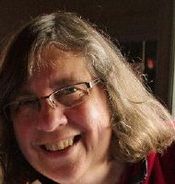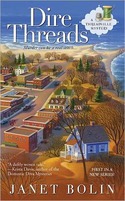 When I was in second grade, my mother asked us, "What do you want to be for Halloween?"
I looked down at the plate of food in front of me. "A baked potato."
She should have guessed I'd pick something I could see at the moment. A couple of years before, I'd chosen to be a telephone.
It didn't matter. My mother loved making costumes, the more challenging the better.  I'd worn a wonderful telephone costume, and she fashioned me a glorious baked potato costume. It was round and lumpy but lightweight, with eyes (potato eyes, not people eyes) sewn into the brown fabric body, and fluffy white fabric at the top. I was to peer out through holes in the pat of butter, a yellow-painted box, at the top.
In those days, the entire school afternoon was devoted to the Halloween party and parade, and we tried very hard not to let anyone guess who we were. I went home for lunch, put on my brother's old brown cords and shoes, then slid the costume on top. It was a little bulky, but I had the use of my hands, if not my entire arms. I dodged through neighbors' yards to avoid being seen on my own front walk.
In my classroom, I ran into my first snag. Our desks were attached to their seats, and my costume didn't fit between the two. I had to sit in the reading circle. In case no one could tell what I was supposed to be, I blurted out from time to time in a deep and potato-like voice, "I'm a baked potato."
The parade began in the school. My brother's class came through ours before we went outside. My brother was a very large sombrero. No one recognized him, either.
And now, here we are, almost Halloween again. I've never had my mother's costume-making skills, but I did learn a lot about creativity from her–if you want something badly enough, try making it yourself. And enjoy the challenge.
I have this room full of sewing supplies. Deciding what to make first may be the biggest challenge.
Who fostered your creativity, and how did they do it?
One commenter will win a signed copy of DIRE THREADS
In addition to making things from fiber, fabrics, thread, and yarn, Janet Bolin writes the Threadville Mystery Series. DIRE THREADS is available now. THREADED FOR TROUBLE comes out in June.
Find Janet on facebook; and twitter.
To comment on Janet Bolin's blog please click here.