Five years ago, I scribbled down a few pages about a teen witch who went up against Hecate. The story took root in my brain, and before I really knew what was happening, I'd drafted the book that would become DAUGHTER OF CHAOS, but I didn't stop there. I fell immediately into the second book, and then the third, drafting the trilogy in under a year. Darlena and her world became almost tangible for me the longer I was immersed in the story, and these characters have been a constant part of my life for the last half a decade.
I've connected with my different stories and characters in different ways, but whenever I came back to Darlena's story to revise, both while I was still looking for a publisher and after I'd sold the trilogy and had begun the detailed editorial process, I was struck by the easy familiarity. It didn't seem to matter how long it had been since I'd worked on a draft, and it didn't seem to matter what other characters I'd inhabited in the intervening time; whenever I came back to the Red Magic series, I slipped effortlessly into Darlena's head, her voice feeling almost as natural as my own.
Like any mother, I love all my book children in different ways, but there's a special corner of my heart reserved for the chaotic world Darlena inhabits. Now that the trilogy is entirely complete, polished, and published, it feels like one phase of my writing life has come to an end. There will be other characters and other series, but for five years, Lena has been my favorite, and now it's time to let her go. I'm so excited that you get to read the entire series now, that you will see the resolution to Lena's wild journey, but I'm feeling a little bit wistful, too. As her quest wraps up, a part of mine does, as well, I'm standing on another threshold and I don't know exactly where my words will take me next, but I can't wait to find out.
Giveaway
How do you feel when a series ends? Tell us in the comments and three people will an eBooks of TRIUMPH OF CHAOS International.
Red Magic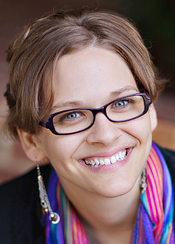 Jen McConnel first began writing poetry as a child. Since then, her words have appeared in a variety of magazines and journals, including Sagewoman, PanGaia, and The Storyteller (where she won the people's choice 3rd place award for her poem, "Luna").
She is also an active reviewer for Voices of Youth Advocates (VOYA), and proud member of SCBWI, NCWN, and SCWW.
A Michigander by birth, she now lives and writes in the beautiful state of North Carolina. When she isn't crafting worlds of fiction, she teaches writing composition at a community college. Once upon a time, she was a middle school teacher, a librarian, and a bookseller, but those are stories for another time.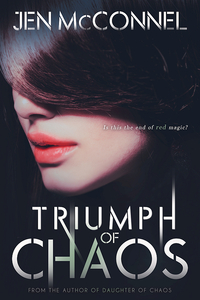 After the disaster in Europe, Darlena is starting to get desperate. She knows the only way to defeat Hecate and the other crazy Red Gods is by banding together with other Witches, but is it any wonder she has a hard time trusting them? With Izzy's support, Darlena begins making fragile strides toward repairing the mess she made, but she just can't catch a break. As chaos runs rampant around her, Darlena begins to think that things would be better if she'd never become a Red Witch in the first place. But there's no way to change the past . . . is there? The final book in the Red Magic series brings Darlena face to face with impossible odds and a terrifying choice.