This March get ready to be bombarded left and right with hot new releases that are sure to keep you spellbound for the rest of the month! All of the books I'll be talking about today will probably be familiar to you as they are written some bestselling authors. Their series have been chart toppers numerous times and been loved by many readers. But instead of talking more about each series and its characters, which you're already probably familiar with, I wanted to share why I think each author is worth checking out.
The first author I want to talk about is Patricia Briggs. Briggs is releasing her ninth book in the Mercy Thompson series. The sheer number of books in this series displays just how good of a writer she is. To be able to continue with a series that is this long-lasting means that she is doing something right. But to be honest, I think Briggs' greatest achievement was creating a heroine that is very relatable to readers. Mercy Thompson isn't your typical Urban Fantasy heroine. Although she has special powers and connections, she doesn't walk around toting a blade and intimidating others. She's far more subtle in her approach, but no less deadly. Briggs' ability to have to continue to grow over the course of the series is that keeps readers engaged. They keep coming back for more because they want to know what is going to happen to Mercy.
Next, I have to mention Anne Bishop. Her series, the Others, sits on the darker end of the Urban Fantasy spectrum and I think this is what draws readers to her books. If you've read Bishop's other books, particularly her Dark Fantasy ones, then you may be familiar with just how dark her books can be. However, there's a good balance of lightness as well in the Others series. A subtle romance is brewing between Meg, our main heroine and Simon. As there are only four books in this series so far, I believe that there is more to explore as the series goes on.
Lastly, Cassandra Clare will be launching her new Young Adult spin off series called the Dark Artifices this month. Fans have been going nuts waiting for this releases, especially as Clare's previous books has recently become a TV series. Sticking to the Shadowhunter world that fans know and love, she is spicing things up by placing this new series in Los Angeles. What I love about Clare's writing is that she is able to weave together the various series she has written. Despite the time, location, and the mythology involved, Clare is able to create an engaging storyline that is rife with emotion. The ability to recreate her world is what makes her books worth checking out.
Hopefully this convinces you to pick up a book from one of these bestselling authors if you haven't already. I would love to know which popular series you've fallen in love with and why you enjoy them so much!
FIRE TOUCHED by Patricia Briggs
This is book nine in the Mercy Thompson series. You can enjoy this as a standalone but I would highly suggest starting at the beginning! You won't regret it!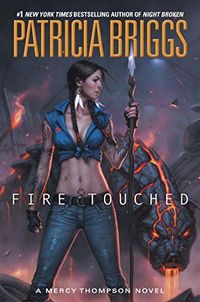 Tensions between the fae and humans are coming to a head.
And when coyote shapeshifter Mercy and her Alpha werewolf mate, Adam, are called upon to stop a rampaging troll, they find themselves with something that could be used to make the fae back down and forestall out-and-out war: a human child stolen long ago by the fae.
Defying the most powerful werewolf in the country, the humans, and the fae, Mercy, Adam, and their pack choose to protect the boy no matter what the cost. But who will protect them from a boy who is fire touched?
MARKED IN FLESH by Anne Bishop
As book four in the series, I wouldn't suggest reading this book out of order. You need to start at the beginning to really appreciate this series!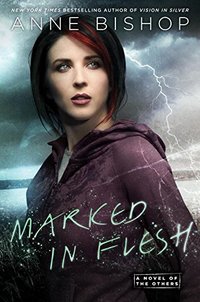 Fourth in the "flawless" (The Reading Café) New York Times bestselling series from the author of VISION IN SILVER.
For centuries, the Others and humans have lived side by side in uneasy peace. But when humankind oversteps its bounds, the Others will have to decide how much humanity they're willing to tolerate—both within themselves and within their community…
Since the Others allied themselves with the cassandra sangue, the fragile yet powerful human blood prophets who were being exploited by their own kind, the delicate dynamic between humans and Others changed. Some, like Simon Wolfgard, wolf shifter and leader of the Lakeside Courtyard, and blood prophet Meg Corbyn, see the new, closer companionship as beneficial—both personally and practically.
But not everyone is convinced. A group of radical humans is seeking to usurp land through a series of violent attacks on the Others. What they don't realize is that there are older and more dangerous forces than shifters and vampires protecting the land that belongs to the Others—and those forces are willing to do whatever is necessary to protect what is theirs…
LADY MIDNIGHT by Cassandra Clare
This is a spin off from the many series that Clare has written this time set in LA.
The Shadowhunters of Los Angeles star in the first novel in Cassandra Clare's newest series, The Dark Artifices, a sequel to the internationally bestselling Mortal Instruments series. Lady Midnight is a Shadowhunters novel.
It's been five years since the events of City of Heavenly Fire that brought the Shadowhunters to the brink of oblivion. Emma Carstairs is no longer a child in mourning, but a young woman bent on discovering what killed her parents and avenging her losses.
Together with her parabatai Julian Blackthorn, Emma must learn to trust her head and her heart as she investigates a demonic plot that stretches across Los Angeles, from the Sunset Strip to the enchanted sea that pounds the beaches of Santa Monica. If only her heart didn't lead her in treacherous directions
Making things even more complicated, Julian's brother Mark—who was captured by the faeries five years ago—has been returned as a bargaining chip. The faeries are desperate to find out who is murdering their kind—and they need the Shadowhunters' help to do it. But time works differently in faerie, so Mark has barely aged and doesn't recognize his family. Can he ever truly return to them? Will the faeries really allow it?
Glitz, glamours, and Shadowhunters abound in this heartrending opening to Cassandra Clare's Dark Artifices series.