You had me at hockey playing cowboy…
CAUGHT UP IN A COWBOY is the story of Rockford James, a hunky cowboy who also happens to play hockey for the NHL. Yeah, you heard that right… A hockey playing cowboy… Could he be any more delicious?
The only thing that could make him any better would be if he had two handsome cowboy brothers who also played hockey… Oh wait… He does.
The Cowboys of Creedence is a new series featuring the James brothers, who are all as hot on the ice as off. Feel free to One-Click now, or if you need any more convincing, here's The Top Five reasons why hockey-playing cowboys are the best…
There are hundreds of Pinterest boards dedicated to good looking men who are cowboys and hockey players. Whether you are looking for abs or chaps, you'll find your McDreamy hero, times ten!
They're good with their hands—and they don't mind getting a little dirty. They have great hand eye coordination, and know how to handle their stick. Speaking of stickhandling, these guys know how to score. They play to win and can go all night.
These guys are bad-a** tough on the outside, but tender on the inside. They epitomize manliness, whether they are riding a horse or crashing their opponent into the boards. And you never have to worry about anyone messing with you.
They are very driven to get a Hat Trick—which in hockey terms, means they score three times in one night. And they have great endurance. Enough said.
They work hard, value the respect of their peers, and take their responsibilities seriously. They value family, and honor, and they love their mamas.
So, there you have it. Don't these guys sound like great heroes?
I grew up on a farm in Kansas so I love cowboys, and I married a hockey player, so I have several series featuring both kinds of heroes, but I knew I had to do a mash-up of the two. And I'm so glad I did. I love creating small towns with fun, quirky characters and building a whole world of books around it, so I set neighboring ranches, The Triple J and Rivers Gulch, in the small mountain town of Creedence, Colorado. And of course the ranches have been in a family feud for years. But the kids never cared. The three James brothers, Rock, Mason, and Colt, grew up with the Rivers kids, Logan and Quinn, learning to skate on the same pond they swam in during the summer. Eventually that friendship turned into more for Rock and Quinn and they fell in love and had great plans for their future. Until Rock got drafted into the NHL and left her behind.
I had a great time writing all of these three brothers' stories, and I can't wait for you to meet Rockford. On his way home to the ranch to recuperate from an injury, he happens upon Quinn, the only woman he's ever loved, and the one he left behind, as she is riding down the side of the road on a child's bicycle and wearing a pirate's outfit. After laying on the charm, he convinces her to at least let them be friends again, and she agrees, on one condition…that he dons the other pirate outfit….
See what I did there? Not only am I giving you a hockey-playing cowboy to fall in love with, I also temporarily turn him into a pirate and give you a little swashbuckling flirty fun! Could this guy get any hotter?
I hope you love CAUGHT UP IN A COWBOY. I know I loved writing it.
Happy Reading…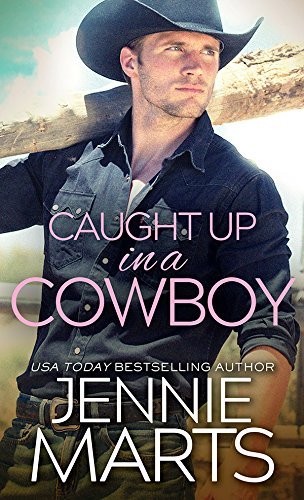 This cowboy plays to win
Rockford James was raised as a tried and true cowboy in a town crazy about ice hockey. Rock is as hot on the ice as he is on a horse, and the NHL snapped him up. Now, injuries have permanently benched him. Body and pride wounded, he returns to his hometown ranch to find that a lot has changed. The one thing that hasn't? His feelings for high school sweetheart and girl-next-door Quinn Rivers.
Quinn had no choice but to get over Rock after he left. Teenaged and heartbroken, she had a rebound one night stand that ended in single motherhood. Now that Rock's back—and clamoring for a second chance—Quinn will do anything to avoid getting caught up in this oh-so- tempting cowboy…
Romance Contemporary | Romance Western [Sourcebooks Casablanca, On Sale: May 1, 2018, Mass Market Paperback / e-Book, ISBN: 9781492655695 / eISBN: 9781492655701]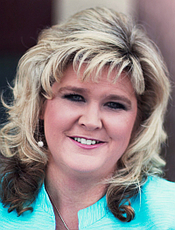 USA TODAY Best-selling author Jennie Marts loves to make readers laugh as she weaves stories filled with love, friendship and intrigue. She writes for Entangled Publishing and reviewers call her books "laugh out loud" funny and full of great characters that are "endearing and relatable."
She is living her own happily ever after in the mountains of Colorado with her husband, two sons, two dogs and a parakeet that loves to tweet to the oldies. She's addicted to Diet Coke, adores Cheetos, and believes you can't have too many books, shoes, or friends.
Her books include the contemporary western romance Hearts of Montana series, the romantic comedy/ cozy mysteries of The Page Turners series, the hunky men in the Bannister family in the Bannister Brothers Books, and the small town romantic comedies in her upcoming Lovestruck series of Cotton Creek Romances.