Welcome back to Fresh Fiction! Can you catch us all up to speed with the Crown of Shards series and a little bit about PROTECT THE PRINCE? 
Thanks for hosting me. I appreciate it. 🙂 
PROTECT THE PRINCE picks up a few months after the events of KILL THE QUEEN, book #1 in my Crown of Shards epic fantasy series.
Everleigh "Evie" Blair might be the new gladiator queen of Bellona, but her problems are far from over, something she realizes when someone tries to assassinate her in her own throne room.
Magic, political intrigue, a steady stream of assassination attempts, oh and a will they-won't they romance… PROTECT THE PRINCE has it all! In fantasy series, I'm always impressed by the amount of worldbuilding that goes into, well, everything! Was there anything in particular that inspired the "realm" in Crown of Shards? 
Thanks! I appreciate that. When I was first coming up with the series, I knew that I wanted to write about gladiators, so I decided to use Roman and other mythologies for some of the place and character names. For example, Bellona, my gladiator kingdom, is named after a Roman war goddess. I thought the Roman mythology tied in well with my overall gladiator theme/world.
Everleigh is something of a reluctant queen, but she knows she needs to lead. One of the things I enjoyed most was she made her inner circle full of people who traditionally wouldn't have been a part of a royal court, let alone advising a queen. How does Everleigh unconventional leadership style change things in Bellona?
Evie was 17th in line for the throne, so no one ever expected her to be queen. Instead, Evie was treated more like a stand-in for the more important royals, attending teas, luncheons, and all the things that her more powerful relatives were too busy to bother with. So the other royals and nobles treated Evie pretty badly because she didn't have a lot of influence at court.
Evie has seen the good, the bad, and the ugly of court life, and she is determined to change that as much as she can – to treat people fairly and to remember those who have been kind to her in the past, including her friends.
Readers get a chance to meet a few new characters who are from Lucas Sullivan's mysterious past in PROTECT THE PRINCE. What do these new characters add to Sully's character development? 
Jennifer: Readers will get to meet several members of Sullivan's family in PROTECT THE PRINCE. Each character has a different relationship with Sullivan, so they all see him in a slightly different light. That means that Evie (and readers) get to see a lot of different sides of Sullivan too.
What do you think is the enduring appeal of fantasy, and fantasy romance in particular? 
Deep down, I think everyone wants to be the hero/heroine of a fantasy story. Who wouldn't want to have amazing powers and magic and use them to defend their friends, family, and kingdom?
I love fantasy romance because you get all the action, adventure, and magic from a traditional fantasy novel, but you also get a romance too. I love writing and reading books that have a little bit of everything in them, and fantasy romance is a genre that really works for me as both an author and a reader.
I love asking authors for book recommendations! What have you recently read that you loved? 
I recently read THE CRUEL PRINCE by Holly Black, which I really enjoyed. It's about a girl who gets taken to a land of fairies and decides to become just as vicious and powerful as the fairies.
I also recently read and enjoyed MEET CUTE by Helena Hunting. It's about a friendly rivalry between two lawyers, and it was a fun rom-com.
What can readers expect from you next? 
CRUSH THE KING, book #3 in my Crown of Shards series, will be out on March 17.
I'm also working on book #18 in my Elemental Assassin urban fantasy series. I'm hoping to self-publish that book in fall 2019. I'm also working on SPARTAN DESTINY, book #3 in my Mythos Academy spinoff series. I'm hoping to self-publish that book in early 2020.
For more information on my books, folks can visit my website at www.jenniferestep.com or follow me on Facebook, Twitter, Goodreads, BookBub, and Amazon. People can also sign up for my email newsletter on my website.
Rapid Fire Random Questions
Favorite Romance Trope: Fun question! I like royal-themed romances, fake relationships that turn real, and marriages of convenience.
Go to mani/pedi nail polish color: Dark blue, like Evie on the PROTECT THE PRINCE cover.
Do you dog-ear or use a bookmark in your books?: Definitely a bookmark. You don't dog-ear pages, and you certainly do not crack book spines. Only barbarians do that! LOL.
Pancakes or waffles?: Pancakes
Favorite book from childhood: The Baby-Sitters Club series and the Sweet Valley High series. I read those books over and over again as a kid.
Morning person or night owl: Morning person
First thing you'd splurge on if you won the lottery: I'd probably build an addition onto my house and turn it into a large library/office.
A song that will always cheer you up: "Take On Me" by a-ha. I've been listening to that one a lot lately, along with the new Weezer version of the song.
Favorite season: Fall. I love the cool lights, fall leaves, football, and all things pumpkin.
You have a totally free afternoon – no deadlines, no obligations, no Twitter notifications! What do you do?: Take a nap. 🙂 
Happy reading, everyone!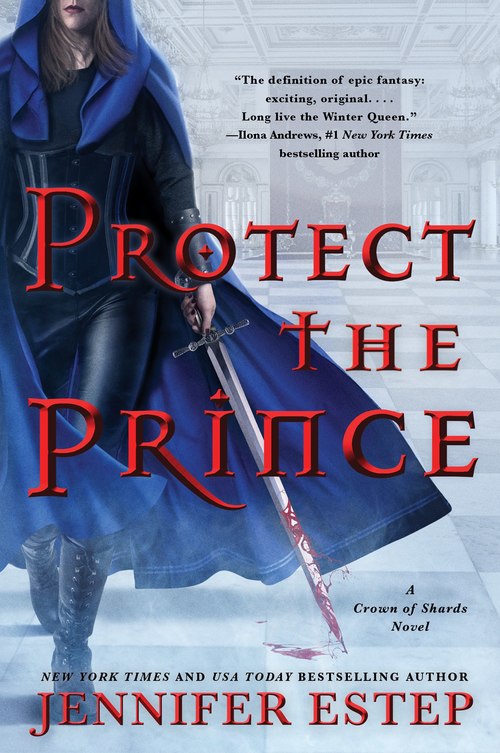 Magic, murder, adventure, and romance combine in this second novel in the exciting Crown of Shards saga from New York Times and USA Today bestselling author Jennifer Estep.
Everleigh Blair might be the new gladiator queen of Bellona, but her problems are far from over.
First, Evie has to deal with a court full of arrogant, demanding nobles, all of whom want to get their greedy hands on her crown. As if that wasn't bad enough, an assassin tries to kill Evie in her own throne room.
Despite the dangers, Evie goes ahead with a scheduled trip to the neighboring kingdom of Andvari in order to secure a desperately needed alliance. But complicating matters is the stubborn Andvarian king, who wants to punish Evie for the deaths of his countrymen during the Seven Spire massacre.
But dark forces are at work inside the Andvarian palace, and Evie soon realizes that no one is safe. Worse, Evie's immunity to magic starts acting in strange, unexpected ways, which makes her wonder whether she is truly strong enough to be a Winter Queen.
But Evie's magic, life, and crown aren't the only things in danger—so is her heart, thanks to Lucas Sullivan, the Andvarian king's bastard son and Evie's . . . well, Evie isn't quite sure what Sullivan is to her.
Only one thing is certain—protecting a prince might be even harder than killing a queen…
Fantasy [Harper Voyager, On Sale: July 2, 2019, Paperback / e-Book, ISBN: 9780062797643 / eISBN: 9780062797650]

Can Evie survive three assassination attempts while thwarting the plans of those opposing her?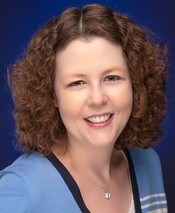 Jennifer Estep is a New York Times, USA Today, and international bestselling author, prowling the streets of her imagination in search of her next fantasy idea. She is the author of the following series:
THE CROWN OF SHARDS SERIES
The books focus on Everleigh Blair, a member of the royal family who is distantly in line for the throne of Bellona, a kingdom steeped in gladiator tradition. But when the unthinkable happens, Evie finds herself fighting for her life—both inside and outside the gladiator arena.
THE ELEMENTAL ASSASSIN SERIES
The books focus on Gin Blanco, an assassin codenamed the Spider who can control the elements of Ice and Stone. When she's not busy battling bad guys and righting wrongs, Gin runs a barbecue restaurant called the Pork Pit in the fictional Southern metropolis of Ashland. The city is also home to giants, dwarves, vampires, and elemental —Air, Fire, Ice, and Stone.
THE MYTHOS ACADEMY SPINOFF SERIES
The books focus on Rory Forseti, a 17-year- old Spartan girl who attends the Colorado branch of Mythos Academy. Rory's parents were Reapers, which makes her the most hated girl at school. But with a new group of Reapers and mythological monsters on the rise, Rory is the only one who can save her academy.
THE MYTHOS ACADEMY SERIES
The books focus on Gwen Frost, a 17-year- old Gypsy girl who has the gift of psychometry, or the ability to know an object's history just by touching it. After a serious freak-out with her magic, Gwen is shipped off to Mythos Academy, a school for the descendants of ancient warriors like Spartans, Valkyries, Amazons, and more.
THE BIGTIME SERIES
The books take place in Bigtime, New York, a city that's full of heroic superheroes, evil ubervillains, and other fun, zany, larger-than- life characters. Each book focuses on a different heroine as she navigates through the city's heroes and villains and their various battles.
THE BLACK BLADE SERIES
The books focus on Lila Merriweather, a 17-year- old thief who lives in Cloudburst Falls, West Virginia, a town dubbed "the most magical place in America." Lila does her best to stay off the grid and avoid the Families—or mobs—who control much of the town. But when she saves a member of the Sinclair Family during an attack, Lila finds herself caught in the middle of a brewing war between the Sinclairs and the Draconis, the two most powerful Families in town.