1–What is the title of your latest release?
MURDER ALWAYS BARKS TWICE, it's the second in my "Chatty Corgi" mystery series set in the village of Trevena in Cornwall.
2–What is it about?
The organizer of a local literary festival is found dead, and Emma Reed and her irrepressible corgi sidekick, Oliver, are caught up in the murder investigation. There's mystery, family secrets, romance, old grudges, a grand old house, and lots of cake.
3–What do you love about the setting of your book? 
Trevena is based on Tintagel, which is a village I visited while I was in Cornwall researching another book. I fell in love with the Cornish coast on that trip, so I was really excited to be able to set a mystery series there.
4–How did your main character(s) surprise you? 
The big surprise as I wrote these books was Oliver, my "chatty corgi." When my editor came to me and asked for a series with an actual talking dog, I was more than a little uncertain. It took a while to get a feel for Oliver's personality, and his voice. At first, I wasn't sure I was going to be able to make him work as a character. But then something clicked, and when it did, he just started zooming through the stories at top speed, like corgis do. Now, his sections are my favorite ones to write
5–Why will readers relate to your characters? 
I write the kind of people I'd like to hang out with. They're smart, friendly, competent and maybe just a tiny bit snarky. I just always hope if I'm enjoying spending time with them, my readers will as well. And, of course, everybody loves a corgi…
6–What was one of your biggest challenges while writing this book (spoiler-free, of course!)? 
This one takes place in a large family. Making sure all the brothers had distinct and individual personalities was a challenge.
7–Do you look forward to or do you dread the revision process? 
I enjoy revisions. That's where I get to feel the story really come together.
8–What's your favorite snack to have on hand while writing? 
I'm a salty/crunchy kind of gal, so I'd have to say popcorn, popped on the stove, with real butter.
9–Where would you go for an ideal writer's retreat? 
If we're fantasizing, it would be a study carrel in the back of the Library of Congress, so I could have access to any book I wanted for research. In Real Life, it would be New York, or London. I write about a small village, but I find cities continually inspiring.
10–What's the best piece of writing advice you've received? 
Writing is a matter of application — apply seat of pants to seat of chair.
11–Who is the fictional character you want to hang out with the most? (anyone in literature!)
Phryne Fisher from the Miss Fisher mysteries, because there's a gal who knows how to have a good time.
12–What's one of your earliest book memories? 
I went to an "unstructured" kindergarten, and I distinctly remember being curled up with my favorite teacher, who was reading The Wizard of Oz to me, and seeing the words on the page, and being aware they had started to make sense. It was so amazing.
13–If you had to write in a different genre, what would it be and why? 
I've actually written in a number of different genres, and they all have their fun points and their challenges. I guess if I had to choose one, it would be historical fiction, because I am such a history buff.
14–What song will automatically put you in a good mood? 
"Paperback Writer" by the Beatles.
15–What is your favorite way to practice self-care?
Self-care has a lot of layers. There's the surface kind —shopping or reading a good book on the porch on a lovely day, or a cupcake from my favorite bakery. But I think the most important self-care involves paying attention to what your mind and body really need and then, giving those needs — for time alone, for physical and mental exercise, for rest — the same importance that you give the needs of others. This is especially hard for women, who are taught to put everybody else's needs ahead of their own.
16–What can you eat and never get sick of? 
Peaches. Really ripe, fresh peaches. We had a tree in the backyard when I was a little kid, and they remain my favorite thing about summer.
17–Will you share a favorite, recent-ish book you recommend? 
I just finished Alyssa Cole's WHEN NO ONE IS WATCHING, which is an amazing thriller.
18–Do you have any hobbies? 
Indoors, I'm really into embroidery and needlepoint. Outdoors, I'm a hiker and backpacker.
19–Are you an early bird or a night owl?
Early bird, without question. I love seeing the sun rise.
20–What can readers expect from you next? 
I've just turned in A COLD NOSE FOR MURDER, which will continue Emma and Oliver's adventures in cake, Cornwall, and murder.
A Chatty Corgi Mystery #2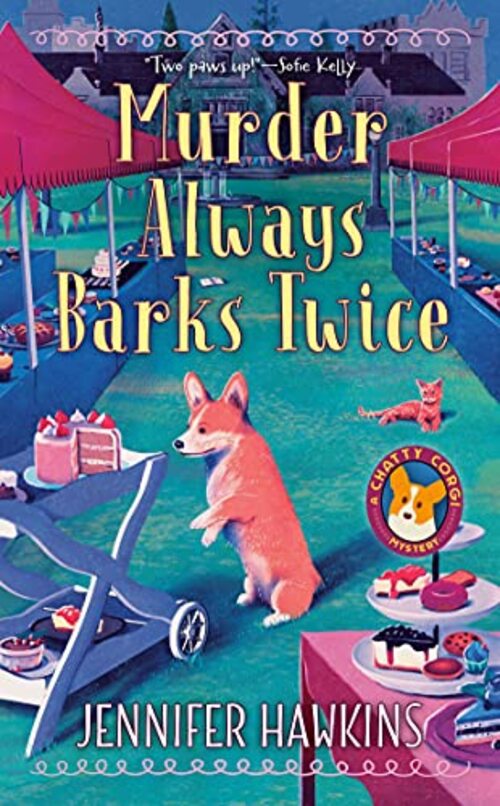 A charming tea room owner and her excitable talking corgi will need to work together to bring a killer to heel in this delightful cozy mystery. 
For ex-accountant Emma Reed and her beloved corgi, Oliver, opening Reed's Classic Tea & Cakes in the idyllic village of Trevena in Cornwall has been the fulfillment of a lifelong dream.  Her cakes are popular, she has a host of wonderful new friends, and even a potential new romance.  There's even time left over for plenty of long country walks with Oliver, who is not only the cutest corgi on record (at least to Emma), he happens to talk (at least to Emma).  What could be better?
How about being asked to help cater the local Daphne DuMaurier literary festival?
But when the festival organizer is found dead and foul play is suspected, Emma, Oliver and their friends are plunged deep into a poisonous mix of village jealousy, family tension, money troubles, and secret love affairs.  Emma quickly realizes it's up to her and her intrepid corgi to discover a canny killer whose bite is worse than their bark.
Mystery Cozy | Mystery Pet Lovers | Mystery Private Eye [Berkley, On Sale: July 27, 2021, Mass Market Paperback / e-Book, ISBN: 9780593197103 / eISBN: 9780593197110]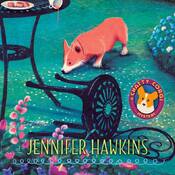 Jennifer Hawkins is a Michigan-based author of cozy mysteries. She's also a mom, binge reader, corgi enthusiast, and a lover of All Things British. For tea, she prefers a second flush Darjeeling with milk. She also makes a killer (so to speak) lemon curd.