Welcome back to Fresh Fiction! Can you tell readers a little bit about THE ME I USED TO BE, and what inspired it?
Thank you for having me back! THE ME I USED TO BE is a big family drama with lots of intense suspense, betrayal, and a budding romance between Evangeline and Chris, the cop who arrested her. It's a lot of what I do in my romance series all wrapped up in a single book, but you get a glimpse of how all the family members perceive what happened, even though what they think happened wasn't the whole truth. The book was inspired by something I've come to realize in my own life – People say beware of strangers, but family are the ones who can hurt you the most.
I loved Evangeline Austen – a woman who is recently out of prison for a crime she didn't commit. She comes home only to find out she's inherited the failing family ranch, and even though they don't want to, everyone is relying on her to pick up the pieces. What was the hardest thing for Evangeline to accept as part of her normal life once she got out?
Evangeline has a hard time seeing how everyone's lives had moved on while she was left behind with her anger and resentments about what happened. It's even harder for her to deal with because she's keeping a secret to protect her family. She wants to protect them from the truth, but it's not easy to take their disappointment and anger when she knows she doesn't deserve it.
One of the things I enjoyed about Chris Chambers, the officer who arrested Evangeline, was his steadfastness. After four years, he was still willing to find out what really happened with Evangeline's case, and also never gave up hope in her. Do you have a favorite quality in Chris?
I love his dedication to Evangeline, that he doesn't accept her version of what happened at face value the way her family did. He knows her. He can't accept that she did something so out of character. He doesn't just want the truth, he wants to clear Evangeline's name.
Evangeline's family is less than welcoming when she comes back; her father died while she was in prison and her mother blames her for his death, and her two brothers are at odds about how to deal with the ranch. These relationships re-develop and change so much throughout the novel! What did rebuilding these familial connections mean to Evangeline's re-acclimation to the outside world?
Everyone thinks they know what happened when Evangeline was arrested. When the truth comes out, they have to reevaluate how they perceive her. They have to see this new version of her. She's not the same, and their relationships with her have to evolve because of it and their new circumstances. With her mother, there's a lot of pain. Her mother's anger and abandonment caused a rift they have to mend. Her brothers think of her as the bratty little sister, but soon learn she's a whole lot more – smart, determined, able to bring a fresh perspective to the running of the ranch. In the end, she earns her family's respect because she makes them see who she is now, not who she used to be.
Evangeline and Chris, of course, end up falling for each other while working on figuring out who was really to blame for the crime that put her in prison. Did you find it difficult to bring these two together, considering how things initially began between them?
It was hard to get these two together. Evangeline always saw Chris as someone who didn't approve of her dating his friend and the guy who took his job a little too seriously when he busted her. But as Chris helps her clear her name, she sees what he tried so hard to hide, that he had a crush on her and hated that she'd disappointed him when he thought she was guilty and had to arrest her. He knows who she is, the sacrifice she made, and he wants to help her rebuild her life. She can't resist his kindness, protective streak, or the way he goes out of his way to give her what she needs.
I often find that authors are the best people to ask for book recommendations! What's something you recently read and absolutely loved?
Oh, I read a couple of really great books the last couple weeks.
Romantic Suspense: HER OTHER SECRET by HelenKay Dimon – Fast-paced, filled with secrets, twists and turns, and a sexy handyman who is way more than he seems.
Women's Fiction/Romance: THE LEMON SISTERS by Jill Shalvis – Simply wonderful! Jill delivers with intense emotion, wit, and heart.
Western Romance: JUSTIFIED by Jay Crownover – Emotional, heartwarming, sexy. A family that's just so real. One of the best books I've read this year.
It's summer, so that means vacations, relaxation, and fun in the sun! Do you have any exciting summer plans over the next couple of months?
Camping. Hiking. Boating on the lake. Time with the whole family. I'd love to sneak in a weekend getaway with just the handsome hubby!
What can readers expect from you next?
I am so excited that the second book in my Wild Rose Ranch series comes out November 12! RESTLESS RANCHER is Austin and Sonya's intense and emotional story.
One minute down-on-his-luck rancher Austin Hubbard slept soundly, the next, a sassy spitfire dumped a pitcher of water on his head and woke him up—in more ways than one. Hired to help him rebuild his ranch, Sonya Tucker ends up helping him put the tattered pieces of his life back together. The capable, all-business accountant is on a mission to get the ranch up and running, but can he convince the temptingly beautiful woman to take a chance on him?
Sonya was dismayed that Austin had lost it all: money, family, respectability. Things she—who'd been raised by her mother at Nevada's notorious brothel Wild Rose Ranch—only dreamed about. But working with the long, lean cowboy shows her that Austin is honorable to his core. Together they slowly grow to see what the love between them might bring.
But then Austin's powder keg of a family feud explodes, exposing long-buried secrets, and threatening their new-found love…
Rapid Fire Random Questions
Dragons or unicorns: Dragons!
Five people you'd invite to your book club (dead, alive, fictional, etc.!):
I'd make it a Girls Night!
Author Lia Riley – because we don't see each other enough and we love to talk books!
Author Jill Shalvis – because we have a ton in common and I adore her.
Kristin Bell – I think she's an awesome human being and actor – funny, upbeat, down-to-earth, smart, and engaging.
Reese Witherspoon – She loves books, the story, characters. I'd love to hear her take on why something grabs her, why she chooses a part to play, and what captures her heart.
Roxy Cordero from my novel DIRTY LITTLE SECRET. She's tough but has a huge heart.
Some of your auto-buy authors: Sandra Brown, Julie Garwood, Karin Slaughter, Nora Roberts,
Favorite flower: Dahlias
Earliest celebrity crush: Luke Perry
Random interesting fact you like to tell people: My kids say my superpower is intense concentration. I get lost in what I'm doing the world fades away.
Hobbies you have (aside from reading and writing): Gardening. Baking.
Dream vacation: Beach and a book!
Sweet or salty snacks: Sweet
You have a totally free afternoon – no deadlines, no obligations, no Twitter notifications! What do you do?: Read a book!
***

William Morrow Paperbacks
July 2019
On Sale: July 2, 2019
Featuring: Evangeline; Chris Chambers
384 pages
ISBN: 0062883917
EAN: 9780062883919
Kindle: B07DTHGZGT
Paperback / e-Book
Romance | Contemporary Women's Fiction | Women's Fiction Contemporary
In New York Times bestselling author Jennifer Ryan's exciting new novel, a young woman has the chance to rebuild her life and become the woman she was always meant to be…
An inheritance she never expected…
After serving time for a crime she didn't commit, Evangeline returns home to discover her father left her solely responsible for the family's failing ranch, her mother blames her for her father's death, and her brothers want her out of their way. With her family's future squarely on her shoulders, she desperately searches for ways to save their home—before they lose everything.
A chance to right past mistakes…
Her only ally, Chris Chambers. The cop who sent her away is positive she took the fall for someone else. And if she helps him track down the real criminals, he'll clear her record. But the closer Evangeline and Chris get to exposing the truth—and to each other—the deeper Evangeline is drawn into a dangerous sting that will finally bring her justice and pave the way for a bright future.
PURCHASE: Amazon | Kindle | Barnes & Noble | Kobo | Apple Books | Google Play | Powell's Books | Books-A-Million | IndieBound | Ripped Bodice
Jennifer Ryan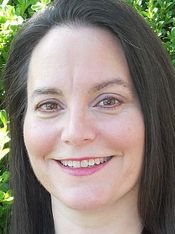 Jennifer Ryan writes romantic suspense and contemporary small-town romances featuring strong men and equally resilient women. Her stories are filled with love, friendship, and the happily-ever-after we all hope to find. Jennifer lives in the San Francisco Bay Area with her husband, three children, dog (Bella), and cat (Shadow). When she isn't writing a book, she's reading one.
***
Fresh Fiction Editorial Manager Danielle Dresser is an avid reader, lackluster-yet-mighty crafter, and accomplished TV binge-watcher. Once upon a time, she was a publisher publicist and continues to cultivate her love of books and reading by chatting with the best authors in the business. She lives in Chicagoland with her very own romance hero husband, darling daughter, and two tempestuous cats. Follow her on Twitter and Instagram, @dj_dresser.