Thanks so much for having me on Fresh Fiction! My debut romcom, MY SWEET ENEMY, just came out yesterday, so I've been eating celebratory chocolate cake and toasting with some bubbly. I'm thrilled to continue celebrating here with you all!
My enemies-to-lovers romcom features a sweetheart chocolatier and a stiff MBA competing in a reality contest for a position at a luxe chocolate company who find the only thing tempering their insta-hate is their heart-melting attraction.
Bitter rivalry, sweet attraction! Oo la la! And here we go with the title challenge.
M-My inspiration: Charlie and the Chocolate Factory inspired this story of a gourmet chocolate company that offers 5 social media applicants an internship and a competition between them with the winner getting a high-level job.
Y-Yummy treats: I adore chocolate, and there are a lot of scenes where the characters are eating truffles, chocolate bars, and other confections. My research at two local gourmet chocolate companies (with samples) was pretty amazing.
*
S-Stuck in a walk-in cooler: In my favorite scene, the hero and heroine get stuck in a walk-in cooler together and have to snuggle to preserve body heat. Why wear a sweater when a hunky man will do?
W-Wrist lie detector test: At one point, the love interests are sequestered in a janitor's closet after the heroine has just accused the hero of shady dealings. He slides her hand to his wrist–his very manly, sexy wrist!–and tells her to DIY lie detector him so he can prove his innocence. Then he does the same to her. Wrists: like forearms, but sexier!
E-Enemies to lovers: One of my favorite tropes! I love the gradual transition from prickly and suspicious to soft heart eyes and grand gestures.
E-Eyes that sparkle: My hero notices the heroine's sparkly brown eyes (the color of chocolate!) at their meet cute. They're one of the many reasons he's drawn to her despite his belief that since she's the competition, she must be his enemy.
T-Therapy and mental health: I appreciate when books address mental health issues with compassion and accuracy. In this story, the heroine's mother has a history of depression, but with therapy, anti-depressants, and time, she's doing really well.
*
E-Enrober accident: During a tour of the chocolate factory floor, the heroine sneaks up on the hero to make sure he's not trying to cheat. When he looks back, she fakes a casual pose and leans against an enrober, the machine that covers candies in chocolate on a little spinning conveyor belt. Her clothes get caught and when she starts to get sucked into the machine, he rescues her from literal death by chocolate. Talk about a hero!
N-Nougat: My hero is all stiff and hard, like magic shell ice cream topping. Can the heroine find his secret nougat center, his real self where he's soft and sweet and loving?
E-Entertaining pop culture references: Look for lots of fun pop culture in MY SWEET ENEMY. You'll find references to Star Wars, Harry Potter, Taylor Swift, Wizard of Oz, Axe body spray, Ariana Grande, and the movie Titanic. (There was room on that door!)
M-Milking cows: The interns compete in several challenges, and one at a local organic dairy farm has them meeting the cows that provide milk for the chocolates…and then seeing who can milk their cow the fastest. Udderly delightful.
Y-Yearning: He wants her, she wants him, but they both think they can't have the other, and so some passionate–and often humorous–yearning ensues. And I hope all these little teasers have you yearning to read MY SWEET ENEMY!
Simone's Chocolates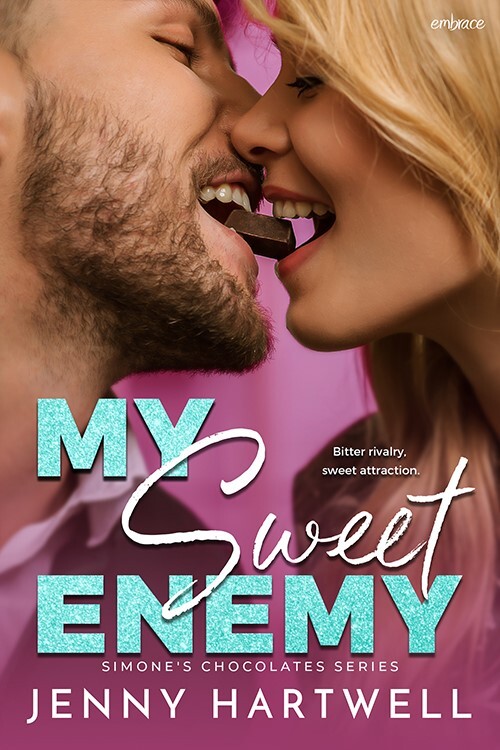 The only thing tempering their insta-hate is delicious attraction.
Sunny chocolatier Charlotte Beecher is unemployed, in student debt, and on the verge of hawking her beloved copper pots just to make ends meet. So when a gourmet chocolate factory chooses her as one of five candidates to help re-launch the company in their Charlie and the Chocolate Factory inspired competition, Charlotte begins to see a light at the end of the tunnel.
Fellow contestant Luke Wells complicates her plans to win by a landslide with his flow charts and marketing projections. Mr. Tall, Dark, and Haughty is all about the bottom line and is as bitter as she is sweet. And when he snubs Charlotte in the first challenge, misunderstanding or not, she transforms from cream puff to jawbreaker. Bring. It. On.
But when these two rivals find themselves distracted by delicious attraction, will they let their passion get in the way of winning the competition?
Romance Contemporary | Romance Comedy [Entangled Lovestruck, On Sale: February 8, 2021, e-Book, ISBN: 9781649371249 / eISBN: 9781649371249]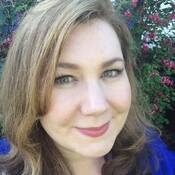 Jenny Hartwell has a confession–she loves People magazine as much as Pride and Prejudice. Her fun, pop culture adoring side shines in her contemporary rom-com novels set in a gourmet chocolate factory while Jenny's Regency romances feature strong damsels and swoony lords. Her writing has won or finaled in numerous contests including the Golden Heart, The Emily, Four Seasons, Fool for Love, and The Catherine. Jenny lives with her family in the verdant Pacific Northwest. She loves movies, travel, and staying up late with a good book. And, of course, chocolate. Jenny is represented by Lesley Sabga of The Seymour Agency.