Love at first sight. It's a wonderfully romantic notion, but does such a thing actually exist? When I first met my husband many moons ago I can remember experiencing a whole range of emotions, but love certainly didn't come into it! He was distant, brusque and definitely not my type, but there must have been something about him that intrigued me because roll on 20+ years and we're still happily together.
In my latest romantic comedy, MOLLY MATTHEWS MEDDLES IN MARRIAGE, my hero, the international film star, Rory Campbell, is a firm believer in love at first sight. Not that he's ever experienced it for himself, but he can clearly recall his father telling him about the first time he set eyes on Rory's mother. 'I walked into the dance hall and there she was, over the other side of the room, talking with another man. I can still picture her now, laughing. She was the most beautiful woman I'd ever seen. She was wearing a red dress with white spots and it had a big bow around the middle. She had the most gorgeous strawberry-blonde hair and the bluest of blue eyes. When she turned to look at me and smiled, I knew in that moment, that she was the one. The woman I would marry.'
Molly Matthews takes a more pragmatic view on the subject. With a wealth of experience at bringing people together, she likes to think she knows everything there is to know about love. Well, she should do, she runs the most exclusive marriage bureau in town. When Rory wanders into her office one day professing to be looking for a wife, Molly is immediately suspicious of his motives. Why would a famous heartthrob with a legion of fans need to use her services?
Rory turns out to be her trickiest customer to date, causing Molly to question her own needs and desires, not to mention her professional integrity. Is she really in a position to be offering advice on the subject of matters of the heart when her own love life is such a disaster area?
The thing about finding love is that everyone's experience is different. Some people will be lucky enough to sample the wonders of falling in love at first sight, while for others it might be a slow burn into something more long-lasting. Some people might need a little help from someone like Molly. It doesn't really matter. The fun part is the journey, your own journey into finding that special person to share your life with.
I really hope you'll enjoy reading about Molly and Rory's journey.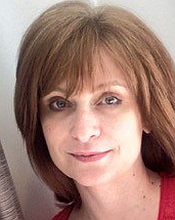 Jill Steeples lives with her husband, two children and a high maintenance English Pointer called Amber in a lovely house surrounded by Monkey Puzzle trees in a small market town in the UK. When she's not writing, she loves spending time with family and friends, and enjoys reading (of course!), films, musical theatre, walking, baking and eating cakes and drinking wine!
Her short stories have appeared in anthologies and women's magazines around the world and she is the author of four romantic comedy novels.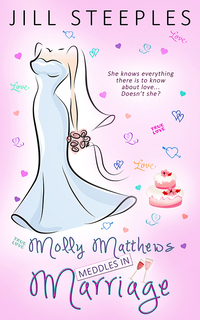 Matchmaker extraordinaire Molly Matthews is an expert in love, but her skills are put to the ultimate test when international heartthrob Rory Campbell waltzes into her office.
Molly Matthews knows everything there is to know about love. She should too, she runs the most exclusive marriage bureau in town. So why, then, is her own love life a complete disaster area?
When Rory Campbell, the international film star and hell-raising playboy, turns up at Molly's office, she can't believe he's looking for a wife. Despite her better judgment, Molly agrees to help Rory in his quest, but all her attempts at finding him the perfect woman are met with disdain from her trickiest customer to date.
Molly is furious that her professional integrity has been compromised and she's allowed her personal feelings to get in the way of a business relationship.
When photos of Rory appear in the press with Emma D'Santi, a beautiful pinup and the only woman Molly suspects Rory has ever loved, she wonders if Rory is wasting her time and playing with her heart.
Can Molly still find Rory the woman of his dreams while putting her own burgeoning emotions to one side and hanging on to what's left of her frazzled heart?