I was recently reviewing lists of potential interview questions for my upcoming blog tour for my debut, NO COWBOY REQUIRED, which released on May 14th (woohoo!). One of the questions was: what do you do when you get stuck writing? That got me thinking. I don't really have something I "do" when I get stuck, except, I guess, stop writing until I feel like it again (thank goodness this isn't my full-time job…yet!).
But I do have something I do when I get overly stressed in general, whether about my writing or my day job or my kids or when my mother-in-law is coming to visit and the house is a wreck… you know, those every-day sort of stressors. What do I do? I cocoon and watch a romance movie in my bedroom. I invite my daughter to watch with me, and she used to agree—until, over time, we'd watched my selections each twice and she realized the selection list was finite and very small. Because, you see, I can't watch just any romance movie. I have my go-to list; those movies I can watch over and over without getting bored – and without the urge to recite the lines along with the characters because that would totally mess the mood!
So here are my top 5 go-to romance movies, in no particular order because I tried to order them but kept changing my mind and gave up. Everyone is a winner and gets a gold star on this list!
The Lucky One. If you haven't seen this movie with Zac Efron and Taylor Schilling, do it. Now. The outside shower scene. Enough said.
Under the Tuscan Sun. Okay, I can hear the moans from here… that it's really not a traditional romance. We don't even find out that guy's name that she ends up with at the end! So who, really, is the hero? Yet it's a love story—about learning to love yourself, about creating and loving a new life (or, maybe just "your" life)—and ultimately, finding love… though, what IS that guy's name? Doesn't matter! The ending is a satisfying love story ending. (And, come on, be honest, who doesn't dream of buying a villa in Italy and moving there?)
Dirty Dancing. Patrick Swayze is amazing. So is Jennifer Grey. And the dancing. I want to dance like that. I've tried to get my husband to take lessons to dance like that. Guys, if you're reading this—learn to dance like that. Seriously, there's nothing sexier.
Again, with the moans. Come on, people. It's an engaging story. I couldn't put the books down when I was reading them. I never really got into the whole Edward/Jacob thing; Jacob never had a chance in my mind. But I still couldn't put those books down—and, yes, the movies (in particular Twilight, the first movie) is still a go-to soother.
Medicine Woman. Yes, my husband bought me the entire series—all six seasons in a special series container! But that's not a movie, you say. True! But since this is my blog, I'm changing the rules. Why? One word: Sully. I like to think of hubby as a present-day Sully. *swoon*
So there you have it: my go-to de-stressor romance movies. What are yours?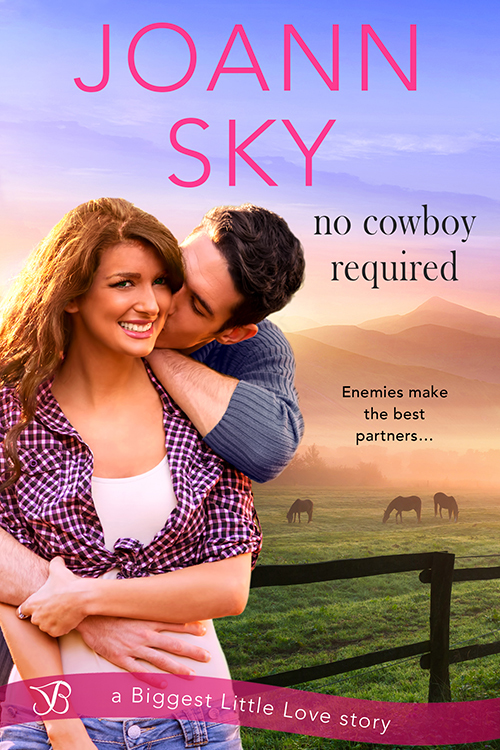 Enemies make the best partners…
As a photographer in NYC, Grace Harper is a pro at handling the unexpected—which comes in handy when she inherits the ranch home she ran away from seven years ago…along with a young, autistic stepbrother she's never met. And because nothing ever goes easy for her, Grace finds her frustrating, sexy ex-flame, Noah, taking care of JJ. But she's getting out of this nowhere town fast, so she'll have to find a way to keep from throttling Noah—without kissing him first.
Noah Taylor may be enemy number one to Grace, but she needs his help. He knows the girl he used to love is still there, beneath the heels and fancy clothes, so he'll help her—and keep his distance like she says she wants. Only the more time they spend together, the closer he wants to get. Grace has no intention of staying, but she belongs in his arms—he just has to prove it to her.
Romance Contemporary [Entangled Bliss, On Sale: May 14, 2018, e-Book, ISBN: 9781987625950 / eISBN: 9781640635012]
JoAnn Sky has written for years as part of her job (business and marketing plans and the like). One day she tried her hand at writing for fun—and liked it. Now she authors adult contemporary romance and young adult romance with a magical twist as well as children's books. She is a two-time Golden Heart® finalist. Originally from the Midwest, JoAnn currently lives in northern Nevada with her husband a.k.a. love of her life, three teenage children, and three crazy rescue dogs. No Cowboy Required is her debut novel.