One question I'm often asked is, "Is it hard to write a series?" I think it depends on the writer. Personally, I love writing a series. At this point, I know the characters well. I know exactly how each one would act in any situation. Most of the time, anyway. They do surprise me once in a while. A character appeared in A ROOM WITH A BREW that I didn't know existed until he knocked on the door. I was as surprised as my main character Max was. That was great fun! The characters I've created have become like family to me. Three books into the Brewing Trouble series I'm not even close to being tired of them. I love seeing how they grow and change from one book to the next. I also like watching the relationships develop—especially the one between Max and her chef-ex hockey player boyfriend, Jake.
Some authors prefer writing standalone novels. They have one idea in mind and when the book is done, they're ready to move on to something new. I'm not sure I could do that! I have a tendency to fall in love with the characters whether I'm writing them, or reading about them in someone else's book. Come to think of it, I don't read very many standalone novels. I much prefer reading a series. When I do read a standalone I always wonder what happens next to the characters. Does she get that job? How does he recover from that tragedy? Do they live happily ever after? It's even worse when a beloved series ends. I love these people—I need to know what happens next!
There are some difficulties writing a series, though. One is keeping the characters straight. Halfway through writing the first book, TO BREW OR NOT TO BREW, I started a character bible. I listed each character, what they looked like, where they lived, where they worked, etc. I'm so glad I did! Believe me, it came in handy by the time I started writing the third book. I also wrote descriptions of the brewpub, the storefronts, and every place mentioned in the book. Every time I added a new character or new place to the books, I added them to my bibles. I even drew a map of the block where Max's brewpub is located. I didn't want to have a store across the street in one book and next door in the next book. I've referred to it many times.
The other obstacle to writing a series is remembering what happened in which book. I can surely recall the victims and the killer, but sometimes the details are a little sketchy. Before I do any kind of event where I have to speak to readers, I have to scan each book to refresh my memory. I'm always glad I did because it never fails that someone will ask a question that I wouldn't have been able to answer otherwise. Which reminds me, I'd better go do some rereading. I have a couple of events coming up!
Readers, what do you prefer? Do you like reading a series? Or do you prefer standalone novels? Tell me below and you may be the winner of A ROOM WITH A BREW!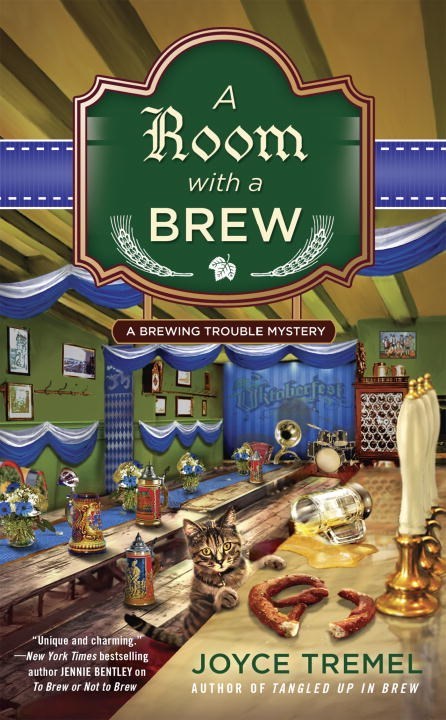 A ROOM WITH A BREW
" style="width:300px;" rel="share" >
Disaster is on tap in this all-new mystery from the author of Tangled Up in Brew.
It's Oktoberfest in Pittsburgh, and brewpub owner Maxine "Max" O'Hara is prepping for a busy month at the Allegheny Brew House. To create the perfect atmosphere for the boozy celebration, Max hires an oompah band. But when one of the members from the band turns up dead, it's up to Max to solve the murder before the festivities are ruined.
Adding to the brewing trouble, Candy, Max's friend, is acting suspicious… Secrets from her past are fermenting under the surface, and Max must uncover the truth to prove her friend's innocence. To make matters worse, Jake's snooty ex-fiancée shows up in town for an art gallery opening, and she'll be nothing but a barrel of trouble for Max.
Mystery Cozy [Berkley Prime Crime, On Sale: October 3, 2017, Mass Market Paperback / e-Book, ISBN: 9780425277713 / eISBN: 9780698181762]
Brewing Trouble
Joyce Tremel was a police secretary for over ten years. Her fiction has appeared in Mysterical-e, and her nonfiction has been published in the Pittsburgh Post-Gazette and the Pennsylvania Chiefs of Police magazine. Joyce is a native Pittsburgher, has two grown sons, and lives in a suburb of the city with her husband. When coming up with the idea for this series, she thought her big city with the small town feel would be the perfect setting for Max's brew pub. She hopes "yinz" guys agree!