IT WAS LATE NOVEMBER WHEN HE FOUND THE ENVELOPE.
Big Jim Garrett held the letter for a while before opening it. It was from his sister-in-law, Adele, who now lived over in Fort Worth. There was a stack of mail on the kitchen counter, but from what he could tell, it was made up mostly of Christmas cards. He would leave those for the others in his household to open, but this letter was addressed to him personally with no "and family" tacked on.
What's going on with Adele? After Big Jim's brother had died, Adele had sold their land and moved to Fort Worth, where she had some relatives.
Big Jim's back teeth ground together as he recalled how she had fallen way behind in property taxes and was forced to sell off the property and stock. The woman had always been headstrong and shortsighted, to his way of thinking. No business sense, and she hadn't come to Big Jim until it was too late.
He took a seat at the counter separating the kitchen from the dining area. Tearing the envelope open, he slid out a single sheet of notepaper.
Dear Jim,
I'm writing to let you know that Zachery is home from his second tour of duty with the U.S. Army.
He intends to return to Langston and hopes to find employment. I hope you can help him get settled.
I feel really bad that I had to sell the ranch, but I just couldn't manage everything by myself. I'm so worried. Zach just doesn't seem the same as when he left. I'm hoping he can find himself when he goes home.
Best ever,
Adele
Big Jim carefully folded the letter and replaced it in the envelope.
His nephew, Zach, had grown up with Big Jim's own three sons. They had been like a pack of puppies, inseparable and carefree. After graduating from high school, Zach had enlisted, while his own sons, one by one, had gone to college and returned to the land. The land that Big Jim would never sell under any circumstances.
He was more than a little peeved that Adele had sold off the land his brother had worked so hard for and that he must have thought would go to Zach someday.
Big Jim shook his head. Sad. But of course he would try to help his nephew settle in and find his place now that he was a civilian– a rancher–again.
Ranchers. The Garretts were ranchers. It was part of their genetic makeup.
Even his rebellious middle son, Tyler, now a country-western singer, had returned to his roots. Of course, he had returned with his bride, Leah, and her daughter, Gracie. He had built a home for his new family right there on the sprawling Garrett ranch. Big Jim knew that Tyler would always return to the place he called home, no matter where his musical career might take him.
Big Jim's oldest son, Colton, had also married and was in the process of building a home for his bride, Misty, and her younger brother, but the snow had hindered their progress. For now, they were living with Big Jim at the Garrett ranch house, happily making preparations for their first Christmas as man and wife.
His youngest son, Beau, had gotten back with his high school girlfriend, Dixie, and their beautiful daughter, Ava. Now, reconciled, they were happily remodeling Dixie's ranch house and getting it ready for their own Christmas celebration.
But now the Garrett Christmas celebration would include Zach Garrett.
Big Jim had made a passionate and somewhat irritable vow to his deceased brother that he would do everything in his power to ensure that Zach would be welcomed and know that he always had a place here with the rest of the Garrett family.
He tucked the letter in his pocket and headed out to the stables. Saddling up his favorite stallion and letting that horse run free would help shake off his own demons. "Bah! Humbug," he muttered.
***
Excerpted from Cowboy Christmas Homecoming by June Faver. © 2019 by June Faver. Used with permission of the publisher, Sourcebooks Casablanca, an imprint of Sourcebooks, Inc. All rights reserved.
THREE FUN FACTS
First fun fact: Stephanie, the heroine in Cowboy Christmas Homecoming, is based on my real-life friend who was a firefighter and an EMT. She has always been an amazing heroine, so I'm just happy to shine the spotlight on her.  (a round of applause for my friend Stephanie)
Second fun fact: Writing this sequel was so much fun because it's all about family, so we get to revisit the characters in the first three novels in this family saga as they come together, because that's what families do during the holidays. The good news is, there are more novels in the pipeline about the Garretts.
Third fun fact: I grew up with four seasons. I recall having a fall coat, a winter coat and a spring coat. . . and then I moved to south Texas. The coast, which is semi-tropical and stays green year-round. I worked in the Rio Grande Valley, which is even closer to the equator, so very lush and verdant. Writing Cowboy Christmas Homecoming called for me to reach way back in my memories to feel the bite of cold on my cheeks and listen to my boots crunching through the snow. It was great fun to write and I hope you enjoy the read and let your senses go.
MY QUESTION FOR YOU
What are your special preparations for Christmas? Do you stay home and decorate to the hilt, or jump on a plane, laden with presents to go visit family? Is there a special recipe you dig out that means Christmas to you?
Dark Horse Cowboys #4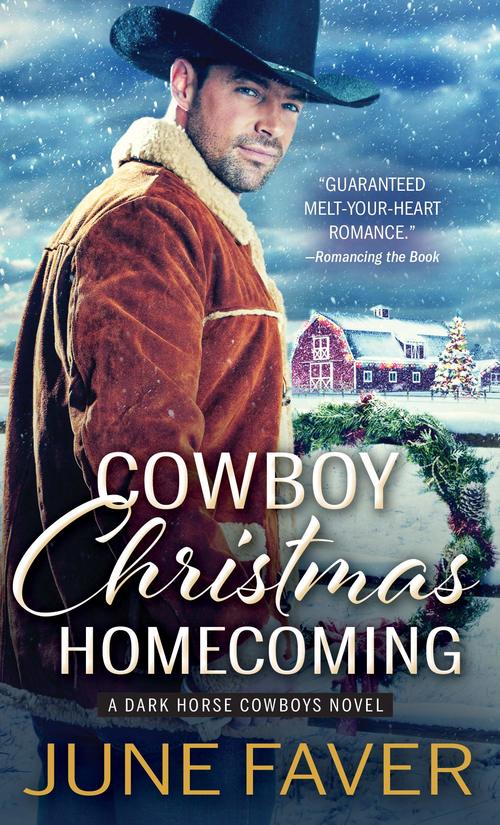 This cowboy's finally coming home for Christmas
Zach Garrett is home from war, haunted by PTSD, trying to fit in to what has become an alien world. With the holidays fast approaching, his uncle Big Jim Garrett offers him a place on the family ranch. Zach isn't sure he's up for a noisy, boisterous Garrett Christmas. . . until he meets beautiful Stephanie Gale, and all his protests go up in flames.
Firefighter and EMT Stephanie Gale is ready for anything. She's got her life under control…until she locks eyes with Zack and realizes her heart's in a whole new kind of danger. But with a little help from Zack's long-lost army dog, maybe he and Stephanie will be able to make this a Christmas of new beginnings after all.
Romance Western | Holiday [Sourcebooks, On Sale: September 24, 2019, Mass Market Paperback / e-Book, ISBN: 9781492679332 / ]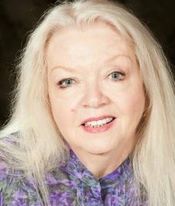 JUNE FAVER loves Texas, from the coast to the panhandle. Her novels embrace the heart and soul of the state and the larger-than-life Texans who romp across her pages. A former teacher and healthcare professional, she lives and writes in the Texas Hill Country.