When I heard I'd be writing a guest post for Fresh Fiction on their weekly Suspense Day, I was immediately filled with, you guessed it, SUSPENSE!
What was I going to write about???
I was excited, but also a little nervous, and totally stumped for ideas.
So, I did what I usually do when I'm stumped. I headed over to my local Novel Solutions store to see if they could help me out. I was relieved to see my buddy Carl behind the counter.
"Ms. Held, what can I help you with today?" Carl asked. "You look a little…tense?"

"Yeah," I said. "I need to write this guest post for Fresh Fiction and I'm kind of stumped. I want to write something about suspense, but—"

"I've got exactly what you need," Carl said, and he reached under the counter and pulled out a battered wooden box.
"What's that?" I asked.

"It's a MacGuffin."

"A MacWhat?" I reached for the lid.

"Don't!" Carl batted my hand away. "You must not open the box under any circumstances."

"Um, I don't want to doubt you, Carl, but how exactly is this supposed to help me with my blog post?" I asked.

"A MacGuffin is the perfect tool to create suspense. Just ask Alfred Hitchcock."

"I'm pretty sure he's dead."

"That's not important. What's important is what a MacGuffin does for your story."

"Which is what?"

Carl sighed. "I just told you, Ms. Held. It creates suspense. It gives your characters something to focus on and raises questions in your readers' minds. It's the Maltese Falcon, the Lost Ark, the One Ring, the Sorcerer's Stone and whatever's in the briefcase in Pulp Fiction."

"What is in the briefcase?"

"It doesn't matter. What matters is that someone wants it very badly. So, in order for your MacGuffin to work, the first thing we need is a deadline. When's your post due?"

"It's supposed to go up on Monday."

Carl fiddled with something on the back of the box.

"What are you doing?"

"Setting the timer. If you don't finish your post in time the box will open."

"Wait a minute, you just said opening the box was a really bad idea!"

"Exactly." Carl reached back under the counter and pulled out a piece of paper. "I'll need you to sign this contract. I'm afraid the MacGuffin hasn't eaten in awhile so I can't be held responsible for what happens if it gets out. You don't have any small pets, do you?"

"Uh, no, but I do have small children."

"Even better, raises the stakes. Now if you'll just sign right here."

I scanned the contract. "Structural damages? Loss of life and limb? Seriously?"

"I assure you, there's nothing to worry about as long as you finish your post in time. Then you simply bring the MacGuffin back and I loan it to the next desperate writer."

I stared at Carl. "There's nothing in the box, is there? You're just trying to scare me into getting my post done, right? The suspense actually comes from the fact that I think there's something totally horrible in the box, but really all the MacGuffin does is provide motivation to reach a goal. Right?" I picked up the pen. "There doesn't even have to be anything in the box."

Carl smiled. I'm not gonna lie. It was kind of a creepy smile. He lifted the lid of the box ever so slightly.

Nothing happened.

"I thought so," I said. And then I gagged. "Holy crap, what's that smell? It smells like egg farts."

The box rocked back and forth slightly as a sound like claws scraping against metal came from inside. Carl pushed the lid back down. Whatever was in the box began to growl.

I dropped the pen. "You know what, Carl? I think I got this." I pushed the contract back across the counter. "You keep your MacGuffin. I'll be back the next time I need a good metaphor."

"As you wish," Carl said, still smiling that creepy smile.
While I didn't take Carl up on his MacGuffin, I did use one in HOLDING COURT, and I'm always intrigued to see what other storytellers use as their MacGuffins.
Do you have a favorite MacGuffin from a suspenseful show, movie, or book?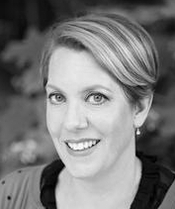 K.C. HELD was born and raised in California with stopovers in Honduras, Mexico, and France. Married to her high school sweetheart, and mom to two avid bookworms, she holds an MFA in costume design and has worked as a freelance costumer in opera, theater, film, and television. Although she once spent a summer working in a castle, there were no dead bodies involved.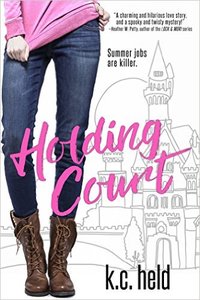 Sixteen-year-old Jules Verity knows exactly what's in store at her new job at castle-turned-dinner-theater Tudor Times. Some extra cash, wearing a fancy-pants dress, and plenty of time to secretly drool over the ever-so-tasty–and completely unavailable–Grayson Chandler. Except that it's not quite what she imagined.
For one, the costume Jules has to wear is awful. Then there's the dead body she finds that just kind of…well, disappears. Oh, and there's the small issue of Jules and her episodes of what her best friend calls "Psychic Tourette's Syndrome"–spontaneous and uncontrollable outbursts of seemingly absurd prophecies.
The only bright side? This whole dead body thing seems to have gotten Grayson's attention. Except that the more Jules investigates, the more she discovers that Grayson's interest might not be as courtly as she thought. In fact, it's starting to look suspicious…