1–How much my series would change because of readers.
A lot of authors will tell you not to read reviews. Dental surgery and spinal taps are more preferable than risking the maelstrom of reader opinions on Amazon or Goodreads. And that makes sense, to a degree. Nothing has ever been published that everyone loves. You're going to get negative reviews, and some of those negative reviewers are going to tell you what they hated with zest & passion.
Me? I've read every word people wrote about THE LAST SUN.
And the thing that amazes me? How much insight there was in those reviews. How many fair criticism were filled with support, but also guidance for immediate course correction. For instance: many readers who really, really liked my book also faulted it for having few positive female characters. (I've written about this before – it's part of my Journey as a writer, learning that having a book filled with gay white men isn't as diverse as I'd once imagined it to be.)
And so in THE HANGED MAN, you have Lady Death. And Anna Dawncreek. I am so excited where these new characters will take me. I am half in love with Lady Death already.
2–That some would become friends
I have never done a launch party. The idea terrifies me. What if three people show up? And even then, only to ask for directions to the bathroom? So I didn't do a launch for LAST SUN, and I wasn't planning on one for HANGED MAN, until Kathy and Sia came along. Both of them are bloggers (Kathy writes https://pagesbelowvaultedsky.wordpress.com/, and Sia writes https://everybookadoorway.com/) who reviewed LAST SUN very favorably. They're self-stated fans of the series, and asked if they could run a fan-powered launch.
Next thing I know? Weeks of amazing launch contests and challenges. We expected maybe 10 active followers, and had about 5 times that number involved on a constant basis. There were contests and prizes and oh my GODS it was fun. The three of us worked hard on this, and I now love them. I am so glad to have met them.
And they're only the most recent friends I've made. There are also the radio gods Keith and Ben of Two Gay Geeks (https://www.tggeeks.com/), one of the first podcasts I ever did. They are so amazing. And Vic? Britny? Tammy? Mikey? Gregory?  So many other people I'm blessed to have met.
3–That my writing group is still all-important.
Even now, I cannot operate without these amazing, wonderful, passionate, talented people in my life. I've been a member of this group for many years now, since LAST SUN was just a prolog. They've been with me every step of the way. Some members have come and gone, but many have been constant, and I treasure the continuity of their advice and support.
You will never, ever, ever be too big a writer not to need that. I promise. And if you're serious about getting published? And you think you don't need a writing group? Then either you haven't found the right one, or you need to reexamine your relationship with criticism. Trust me.
(Now go read AUGUST ISLE, NYXIA, and TRISTAN STRONG PUNCHES A HOLE IN THE SKY.)
4–Conference Love
I was never a big conference attendee until after I became published. Man, did I miss out. I had in my head an image of these massive rooms filled with merchandise, and crowds of people who didn't interact or know each other. That's not true at all. Excepting the really, really big national conferences, most have plenty of opportunity to make friends. People walk away from the weekend with a ton of strong, emotional memories. I actually cried at the closing ceremony of one.
So: thank you Multiverse in Atlanata, and ConStellation Nebraska. Weekends I will never forget.
5–The best part of creating
I've learned that the best part of creating something is sharing it, and hoping that it resounds enough with readers that it encourages them to create in return. People who really, really liked THE LAST SUN and THE HANGED MAN send me artwork. They send me music playlists. I've seen mini-quilts, tarot-themed cookies, crossword puzzles, graphic novel panels, tarot card drawings…. I've lost track of all the amazing work that people have done.
And when they tell you, the author, that you inspired them to pick up a paintbrush after years of not painting?
No words.
I'm going to end on one of those drawings – from Kathy Shin, who I mentioned above. This is what she gave me. A water color that still makes me want to cry, because it's so beautiful. She did this because my story inspired her. How did I get this lucky?
I hope any of you out there, who want to be writers, find themselves on the same wonderful journey.
***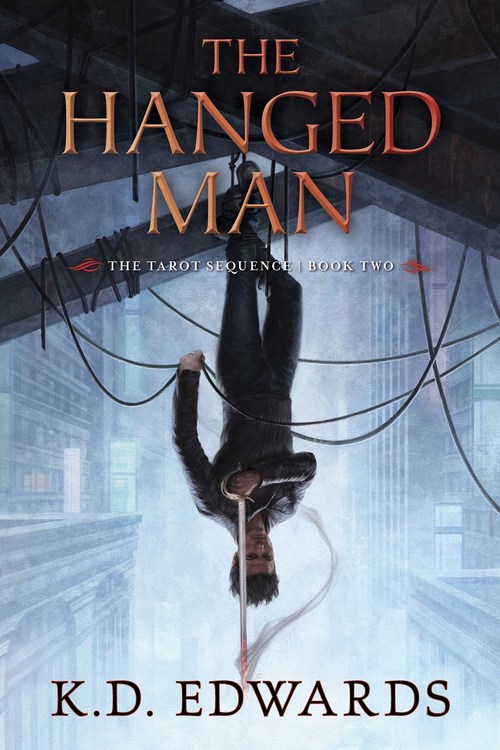 The last member of a murdered House tries to protect his ward from forced marriage to a monster while uncovering clues to his own past.
The Tarot Sequence imagines a modern-day Atlantis off the coast of Massachusetts, governed by powerful Courts based on the traditional Tarot deck.
Rune Saint John, last child of the fallen Sun Throne, is backed into a fight of high court magic and political appetites in a desperate bid to protect his ward, Max, from a forced marital alliance with the Hanged Man.
Rune's resistance will take him to the island's dankest corners, including a red light district made of moored ghost ships; a surreal skyscraper farm; and the floor of the ruling Convocation, where a gathering of Arcana will change Rune's life forever.
Fantasy Urban [Pyr, On Sale: December 17, 2019, Trade Size / e-Book, ISBN: 9781633884922 / eISBN: 9781633884939]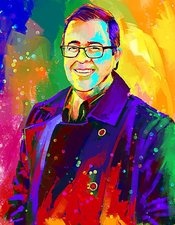 K.D. Edwards is the author of The Last Sun, book one of the Tarot Sequence. He lives and writes in North Carolina, but has spent time in Massachusetts, Maine, Colorado, New Hampshire, Montana, and Washington State. (Common theme until NC: Snow. So, so much snow.) Mercifully short careers in food service, interactive television, corporate banking, retail management, and bariatric furniture have led to a much less short career in higher education, currently for the University of North Carolina System.